CAPE COD BRUSH BREAKERS
1960's The Third Generation 1970's
* A PICTORIAL HISTORY *
By Britton Crosby
January 2001
The Third Generation County Brush Breaker
Between 1958 and 1963 Barnstable County built several of this style brush breaker.
Maxim Motors Company all wheel drive custom chassis carried the 800 gallon water tanks.
This apparatus was designated as C-13 and assigned to Orleans Fire Department.
C-14 was a 1958 Maxim assigned to the West Barnstable Fire Department.
County C-13's 1963 Maxim as shown at the end of its service finishing out at Brewster Fire Department.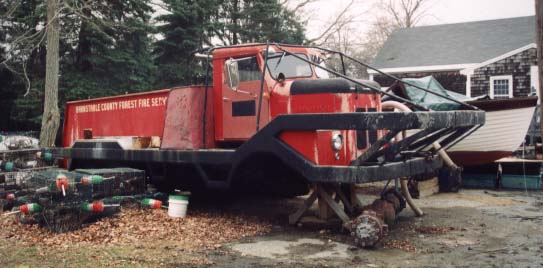 Brewster Breaker 255 (Originally C-13) shown in March 2001.
This County Breaker served several years in the Eastham Fire Department.
Eastham put some teeth in it.
The 1963 Maxim former C-12 was re-designated Brewster Breaker 235.
Brewster Breaker 235 retired in 2001 behind Brewster FD.
Town of Barnstable Patrol Truck 210 and a State Patrol Truck meet with the County Airplane P-18
at the Marstons Mills grass airport.
P-18 was a handy Piper Cub aircraft. Observation from the air was very important. Aerial observation and use of two way radios
helped direct brush breakers around hazards and directly to fire locations. The plane provided vital information to ground crews
making the job safer and more efficient.
The Sandwich Fire Chief drove this 1960's Ford Patrol truck.
Sandwich's old Diamond T Tanker refills a County Breaker at a 1960's fire.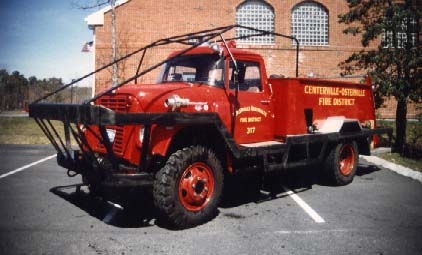 This medium sized brush breaker was built by Maxim in 1962 on an International chassis.
It had a 500 gallon tank. Originally Town of Barnstable's Breaker 212, it was stationed in Centerville,
It was purchased by Centerville-Osterville Fire Dept. in 1975 and served until 1995.
An early 60's International / Maxim Brush Breaker built for Lakeville, Mass.
1964 International / Maxim 750 gallon Breaker at Marion Fire Department.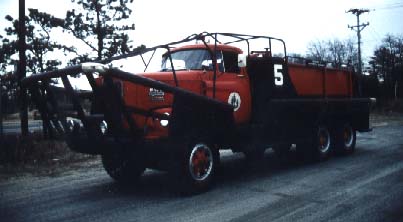 The state DEM's Breaker 5, a 1964 FWD / Farrar 1000 gallon breaker.
The Commonwealth of Massachusetts also built and maintained brush breakers to protect
State Forest lands as well as assist local communities.
Breaker 5 and 6 are 1964 FWD all wheel drive 1000 gallon breakers built by Farrar.
A State Patrol Truck and brush breaker along with other apparatus staged at a major brush fire in 1960's.
1960's FWD / Farrar State DEM Brush Breaker assigned to Bristol County is very similar to Cape Cod and
Plymouth County's state breakers.
Wareham Fire Department's 1965 Jeep forestry 8.
The Mid-Cape Highway Route 6 in Sandwich was no match for this May 1, 1965 forest fire.
The fire began south of the highway, jumped the highway, and burned towards Sandwich village.
Thousands of acres of forest were blackened.
Breaker 4 from Otis Air Base was one of dozens of breakers responding to Sandwich.
Sandwich Fire Department operated two of these Dodge / Maynard 600 gallon Brush Breakers.
Breaker 143 was built in 1966.
Mashpee Fire Department built this 1967 International / Thibault 1000 gallon
Brush Breaker. It was designated Engine 4 (254 and later 354).
This breaker and the Mashpee crews that operated it were well respected for their
abilities across the Cape. This breaker still protects Mashpee.
The third generation Town of Barnstable brush breaker was built in 1967. Maxim Motors was contracted to build
this large custom 1000 gallon breaker. Shown here during off road testing before being painted.
The Town of Barnstable Forest Fire Department Breaker 216 after being painted. A Waukesha gasoline motor
and 5 speed all wheel drive transmission powered this capable unit. A diesel motor would be placed in this truck in the 1980's.
In 1975 the Centerville-Osterville Fire Department purchased the 1967 Maxim from the Town of Barnstable
as its Forest Fire Department shut down after over 50 years of service. The unit became Breaker 316.
Breaker 316 wets down a grass/brush fire in early 1980's.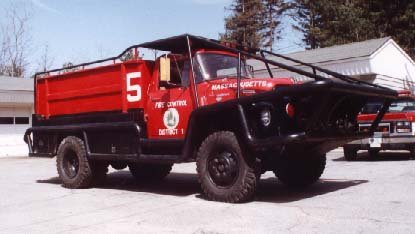 Massachusetts DEM Breaker 5 is a 1968 International / Farrar 600 gallon breaker.
It is assigned to Shawme Crowell State Park, Sandwich.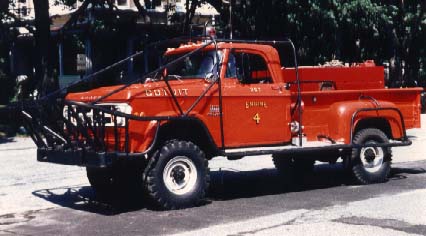 This 1969 Dodge Power Wagon brush breaker was last built by the Town of Barnstable Forest Fire Department.
It was designated 215 assigned to the Cotuit Station. Cotuit purchased it in 1975. This small breaker has a 300 gallon tank
and despite lighter barwork is still fairly capable in the woods. Cotuit B267 is being replaced in 2001.


Plymouth Fire Department placed this 300 gallon International / Farrar brush breaker in service in 1970.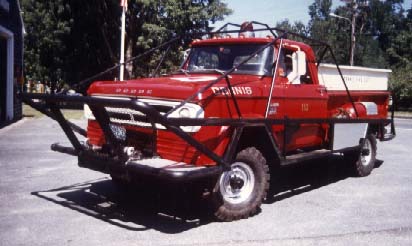 Dennis Fire Department's 1971 Dodge Power Wagon Breaker 110.
Barnstable County built this fourth and final generation breaker in 1973. C-15 is a huge
International / Thibault breaker with an 800 gallon tank. It became Falmouth Breaker 15
when the County Forest Fire Service disbanded in the early 1980's.
Falmouth Fire Department called this unit Breaker 20 until recently changing it to B-17.
It is a 300 gallon 1976 Dodge Power Wagon built by Continental.
Sandwich Breaker 453 (originally 153) has a 1953 Studebaker Military Chassis with
barwork built by Ted Young of Sandwich in 1973. It has an 800 gallon tank.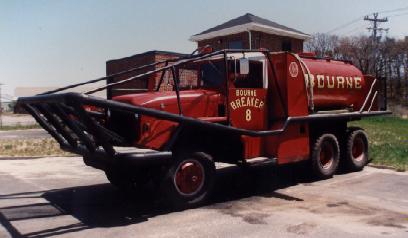 Bourne built this 1500 gallon breaker on a 1967 Kaiser Military chassis in 1975.
Bourne turned this 1953 International military chassis into a 1000 gallon breaker in the 1977.
Breaker 10 / 130 served into the 1980's.
This 1976 Ford / Farrar 600 gallon brush breaker serves the town of Chilmark on Martha's Vineyard.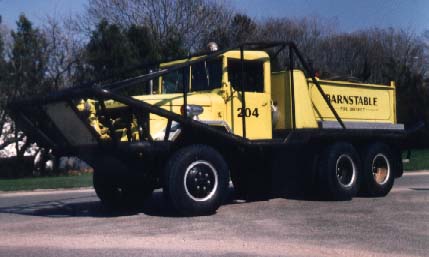 Barnstable Fire District placed this 1000 gallon breaker in service in the 1970's.
It was on a 1952 Reo Military chassis. It was the only lime Barnstable apparatus.
Upon retirement from the Barnstable Fire District, this 1952 Reo now calls Nantucket home.
This large breaker was operated by the Otis Fire Department on a 1968 Kaiser former military chassis.
It had a 1500 gallon water tank.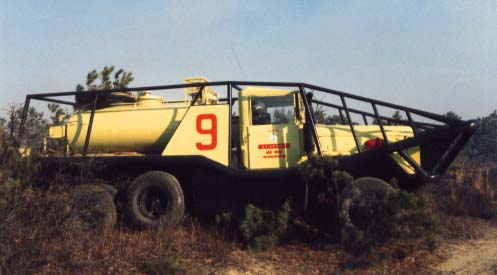 Otis Breaker 9 coming out of the woods. This was a 1972 Gibson military chassis with a 1000 gallon tank.

Wareham Fire Department's 1978 Ford / Farrar 750 gallon brush breaker.
Plymouth Fire Department's Forest Fire 176 is a 1979 International / Farrar 600 gallon brush breaker.
More Pages of Brush Breakers
1920's The First Generation 1930's
1940's The Third Generation 1950's
1980's The Latest Generation 1990's
NOTE
Photos in this series are from various sources
including fire department and personal collections.