ARFF

CapeCodFD.com Special Feature
AIRPORT RESCUE FIRE FIGHTING
APPARATUS

ARFF

Crash Trucks
Protecting Our Airports

- - - - - - - - - - - - - - Updated April 16, 2021 - - - - - - - - - - - - - -
<< Prev CapeCodFD.com Home ARFF Main Terminal Features Next >>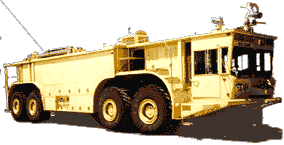 - Cape Cod -
Otis Air Force base
Otis Air National Guard Base
Coast Guard Air Station Cape Cod
(Became Massachusetts Military Reservation 2008)
(Became Joint Base Cape Cod 2014)
Bourne / Sandwich, Massachusetts
Airport Diagram

Runway 5/23 (NE/SW)
8000' x 200'
Runway 14/32 (SE/NW)
9500' x 200
Otis Airport Tower
121.0
Otis Airport Ground
121.6
Cape Approach
118.2
Military Airport
Originally Camp Edwards and Otis Air Force Base
ARFF originally by Military and civilian personnel
of Otis Fire Department, presently civilian personnel.
(Became Massachusetts Military Reservation 2008)
(Became Joint Base Cape Cod 2014)


About Airport
Otis Engine 407
1991 KME P24 Pumper
1000 / 600 /55


Engine 407
Otis Engine 406
1997 KME P24 Pumper
1000 / 600 / 55
Otis Truck 3
1994 Emergency One / Teledyne P-23 Otis Crash Truck 3
2000 gpm / 3300 gallons / 500 AFFF / 500 PKP
Otis Truck 403
1994 Emergency One / Teledyne P-23
Renumbered in 1990s


1994 Emergency One / Teledyne P-23 Truck 403
It only served until about 2002 due to mechanical problems.

Otis Crash Trucks on the line

Otis Crash Trucks
Otis Foam 403
2002 Oshkosh T1500 Crash Truck
1520 gpm / 1500 gallons / 210 AFFF / 500 lbs PKP
52' Snozzle with 27' reach


Otis Foam 403


Otis Foam 403 with boom extended


Foam 403 boom can be operated while in motion


Foam 403 and Otis control tower


Foam 403


Foam 403
By 2008, the base mission had changed and the fighter jets assigned were
relocated. The airfield was taken over by the USCG and the fire department
by the Massachusetts Military Reservation.
Unfortunately this meant that the newest crash apparatus was taken back
by the Air Force and reassigned to a more active base.
This truck went to Selfridge ANGB in Michigan.



Foam 404
2006 Oshkosh Stryker 1500 gallon crash truck was delivered in 2006.
Unfortunately, it too was reassigned in 2008 to another base.


Otis Crash Crew

Engine 410
2006 American LaFrance 2000/750 Pumper
Brand new pumper for Mass Military Reservation
<< Prev CapeCodFD.com Home ARFF Main Terminal Features Next >>
ARFF Apparatus Feature
Copyright CapeCodFD.com
2006