CapeCodFD.com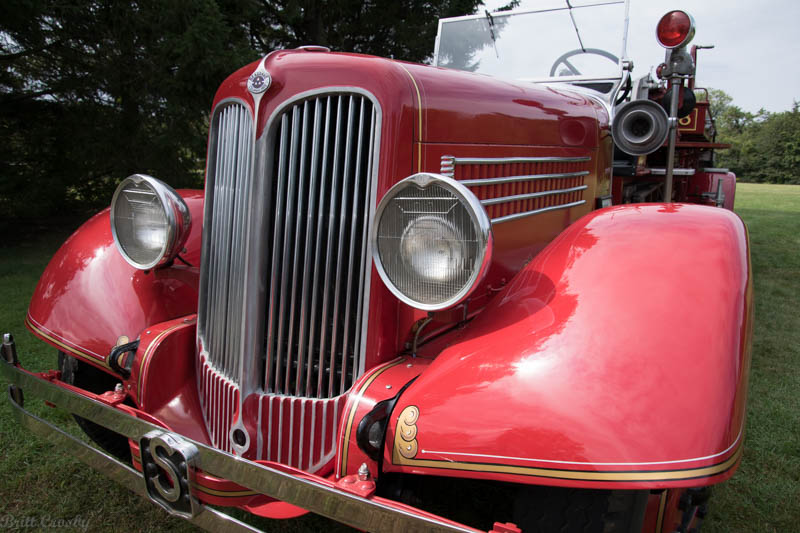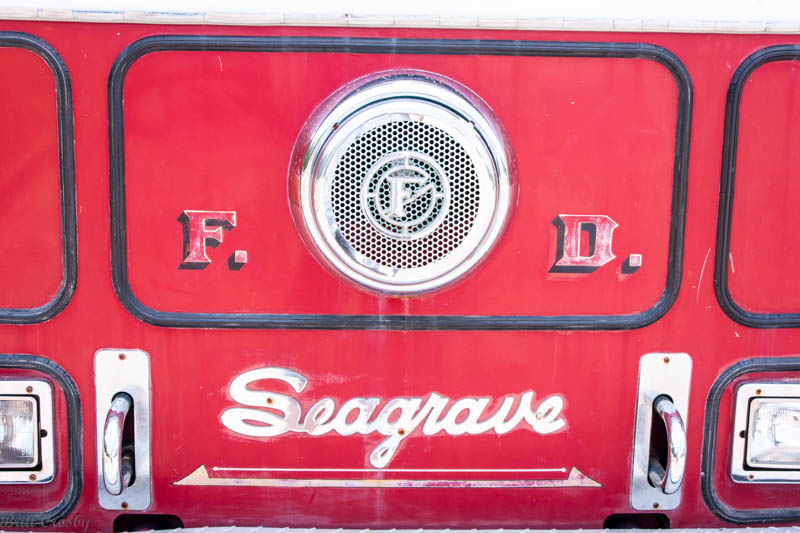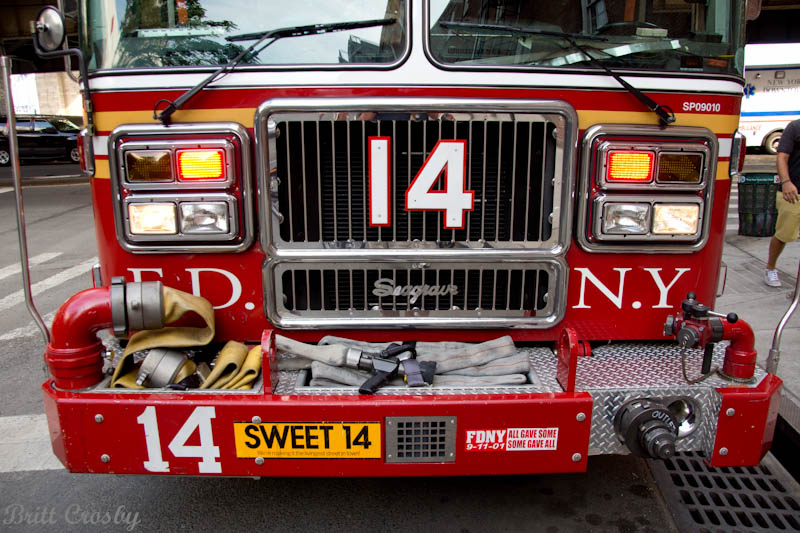 SEAGRAVE
~ FIRE APPARATUS ~
~ 1 ~
Page 1 - Seagrave Fire Apparatus
P1 P2 P3 P4 P5 P6 P7 P8 P9 P10
SEAGRAVE HISTORY - OVER 138 YEARS

Seagrave is one of the most historic and widely recognized builders of fire apparatus in America. It has been a leader in building fire apparatus for more than 130 years and continues to be a major player in the market today.

Seagrave began with its founder, Frederick Seagrave, who started out building wooden ladders, primarily for apple pickers in a shed in Rochester, Michigan. In 1881, Seagrave & Co. was founded about 40 miles outside Detroit to service firemen with equipment, ladders and wagons.

In 1891, Seagrave moved its operation to Columbus, Ohio. In 1898, a partnership with Julious Stone established the Seagrave Company. In 1902, Stone bought out Fred Seagrave and the factory would remain at the same location in Columbus for the next 63 years.

The company would become known as Seagrave Corporation in 1925. The company endured the Great Depression and remained profitable during the 1930s and 1940s. In 1952 Seagrave purchased the Fyr-Fyter company. In 1955, Seagrave purchased Maxim Motors (Middleborough, MA fire apparatus builder). In 1957, the corporation diversified and purchased a number of non-fire apparatus related companies. In 1963, the fire apparatus division of Seagrave was purchased by the Four Wheel Drive (FWD) Corporation.

In 1965, the Seagrave fire apparatus building operation moved from Columbus to Clintonville, WI, home to FWD. The Four Wheel Drive (FWD) company had been around since its early beginnings in 1907 in Clintonville, and had become FWD in 1957.

Over the years, Seagrave had been known for its strong wood truss ladders, its pioneering aerial ladders, its classic styles, and durable reputation. Many of the classic Seagraves have survived time and are preserved by departments, collectors, and photographers. Seagrave continues to build fine fire apparatus today.

This feature is meant to display some of my images of Seagraves taken over the years.

1881 - = Began building fire apparatus
1907 - 1916 = Buckboard Style
1913 - 1926 = Gable Hood Style
1921 - 1935 = Round Hood Style
1935 - 1951 = Full Grille Style (Sweetheart & Waterfall)
1951 - 1970 = 70th Anniversary Style
1959 - Present = Cab Forward Style
1963 - = Bought by FWD

SEAGRAVE FIRE APPARATUS
Seagrave "Gable Hood" radiator style
used 1913 - 1926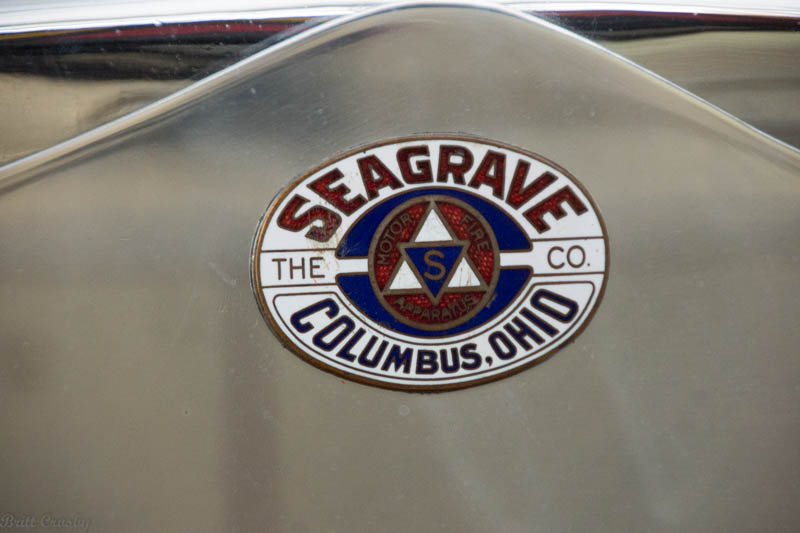 The double triangle Seagrave Company logo was introduced
in 1911 and utilized until about 1951.
The Seagrave "Round Hood" radiator design was used
from 1921 to 1935.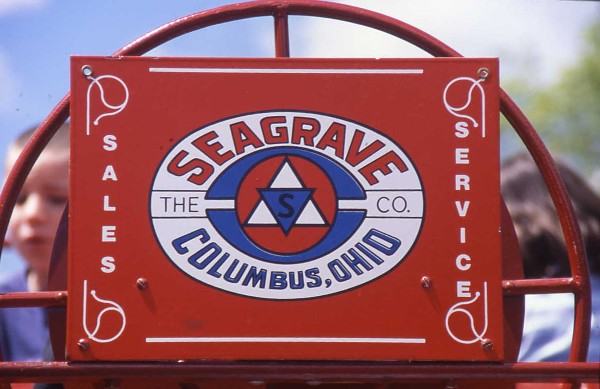 Seagrave built fire apparatus at 2000 S. High Street in Columbus, Ohio
for about 63 years from 1902 until 1965.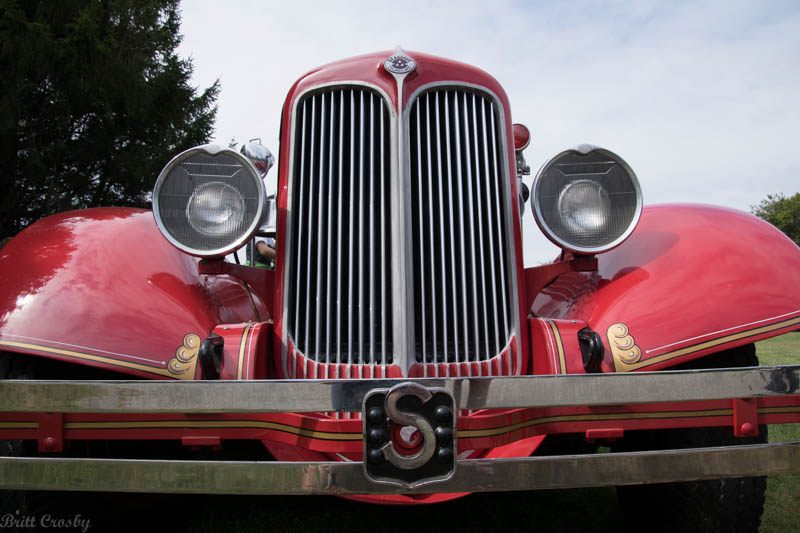 Seagrave came out with a "Full Grille" style radiator
which was utilized during the classic years from 1935 to 1951.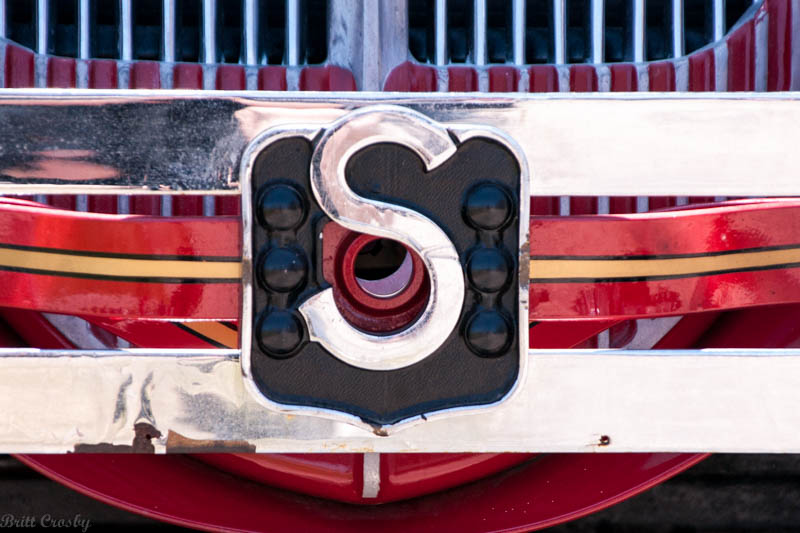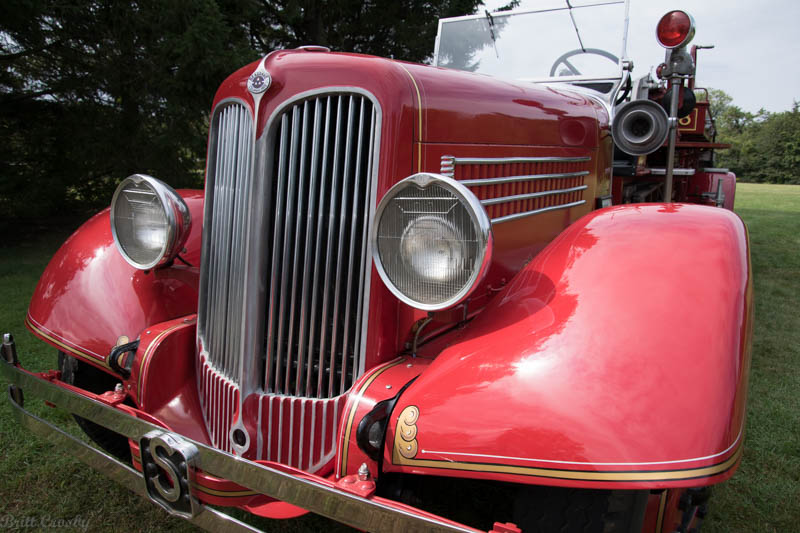 The earlier "Sweetheart Grille" style radiator.
Utilized mainly prior to WWII.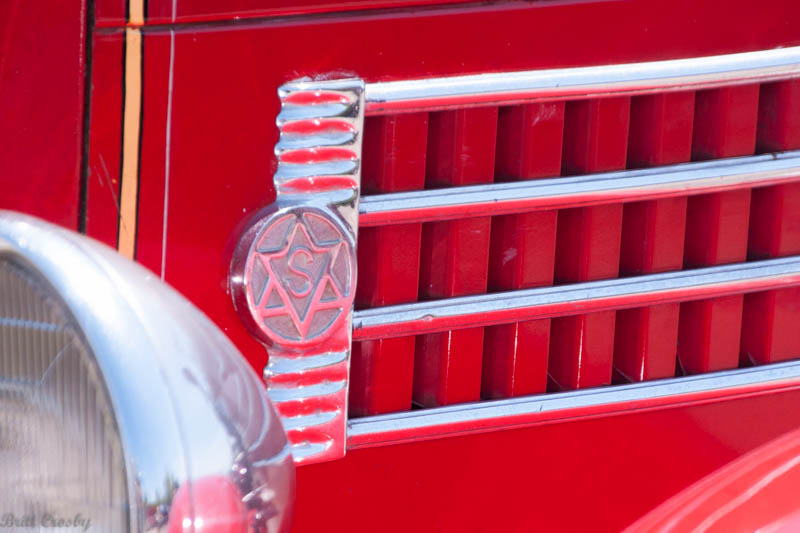 1937 Seagrave Sedan Style Pumper
Operated by Detroit
Sweetheart Grille

The Seagrave "Waterfall Grille" style radiator.
About 1940, headlights, fenders, and wider cabs changed the look.
Plymouth Ladder 2
1940 Seagrave with "Waterfall Grille."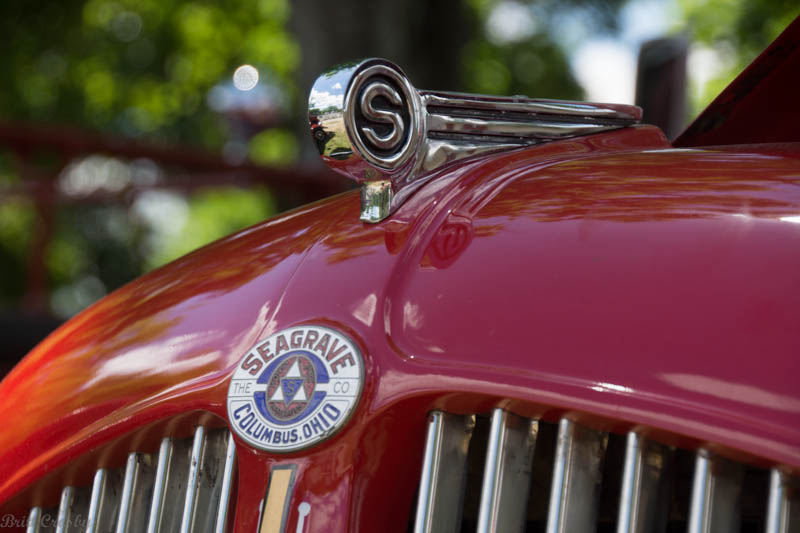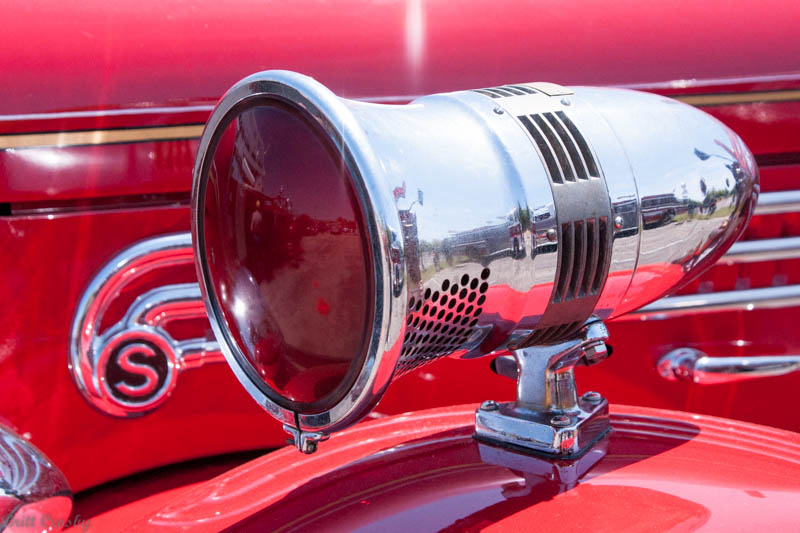 In 1951, Seagrave introduced their "70th Anniversary Series" style
which typically included a nose mounted siren.
The Anniversary series style was used from 1951 until 1970.
The 1951 Anniversary series changed the look and the logo.
The back step and hose bed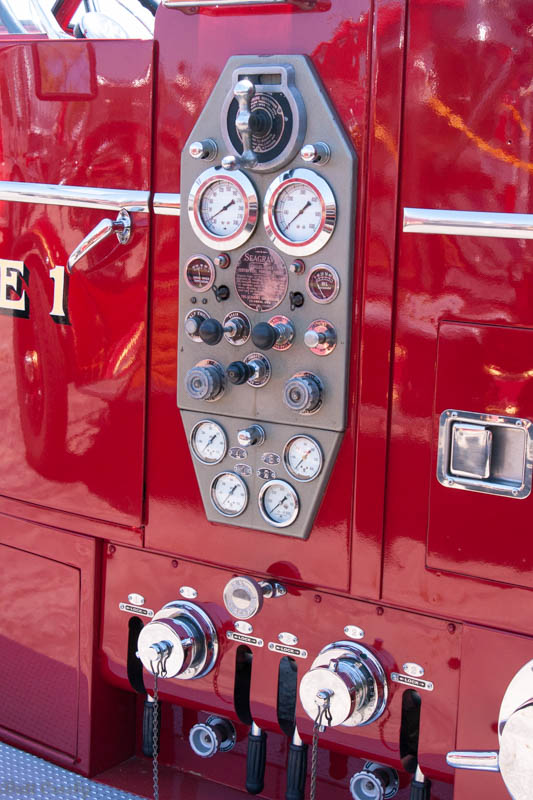 Seagrave pump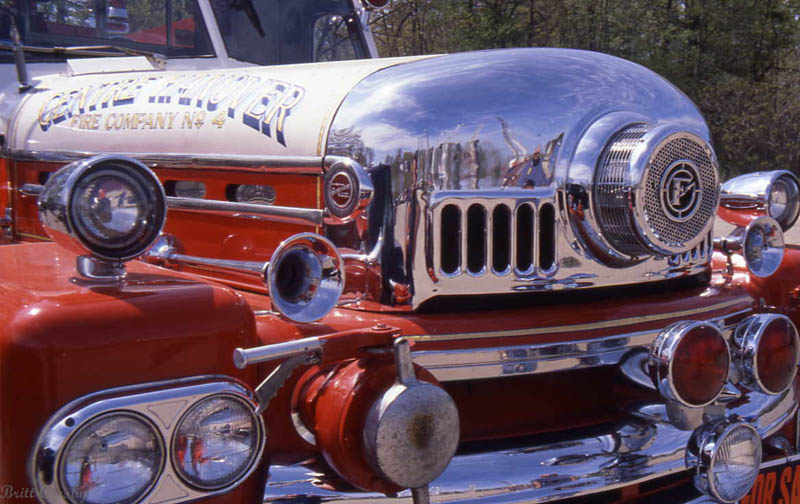 Seagrave had its own chrome shop at the factory and it often resulted in beautiful apparatus.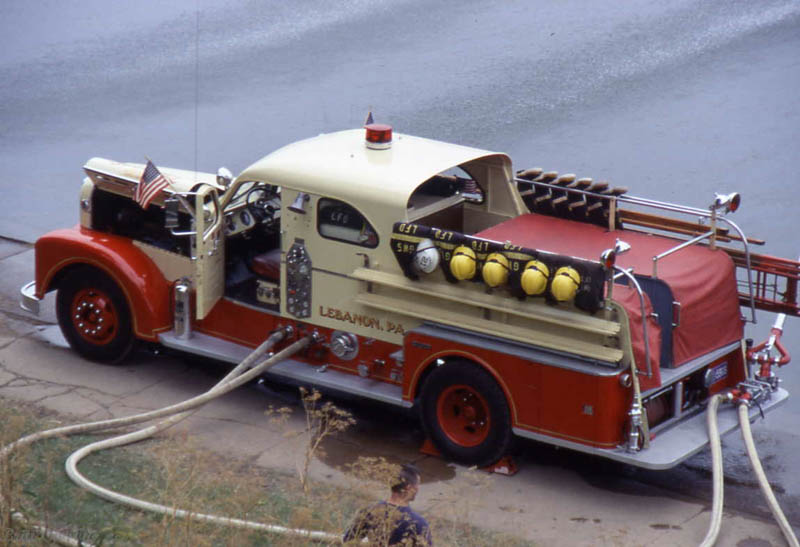 Seagrave innovated in a lot of ways over the years, including
use of canopy style cabs to provide protection and cover for firemen
as early as 1936, with various modifications over the years.
Seagrave began in 1881 building wooden ladders and equipment for firemen.
Seagrave's truss style ladders were very strong.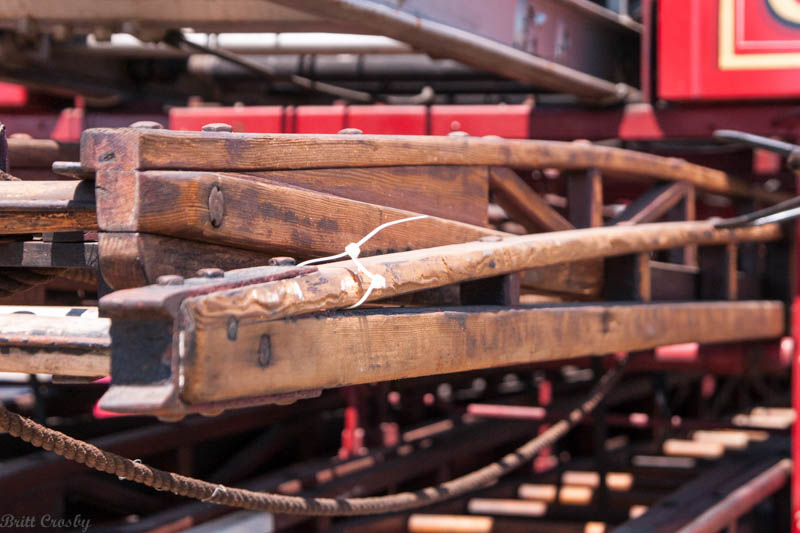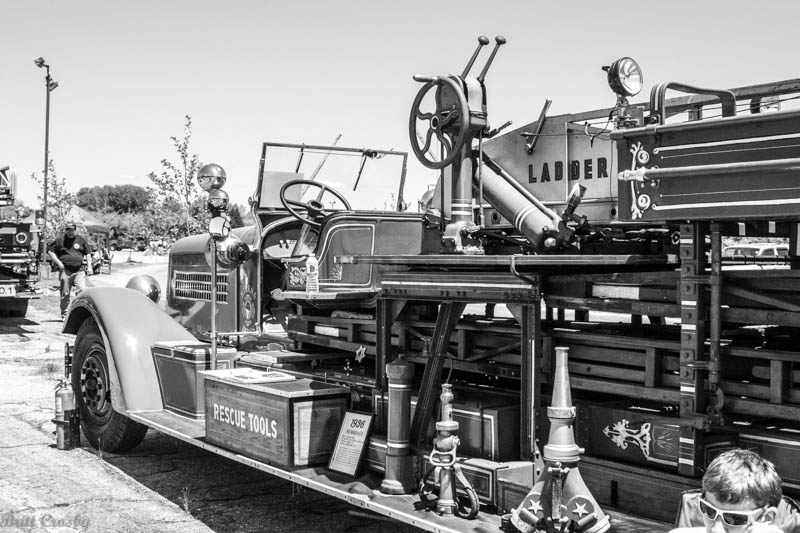 Seagrave had built wooden aerial ladders and was one of the pioneers in
hydraulically raised, steel aerial ladders in the 1930a.
Wood was still a common part of construction of many fire apparatus
into the late 1930s.
Seagrave and other manufacturers moved more and more towards
cab forward style apparatus. Seagrave introduced its cab forward style
in 1959. This open cab forward Seagrave is a 1966 version.
Seagrave apparatus continued to maintain its own unique and recognizable looks
throughout the years, often by the front mounted Federal Q siren and front grille styles.
This 1974 Seagrave is a classic example.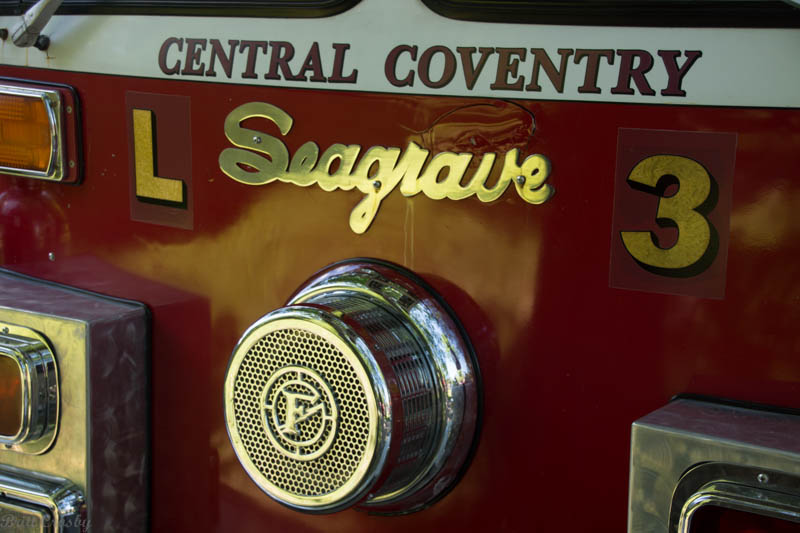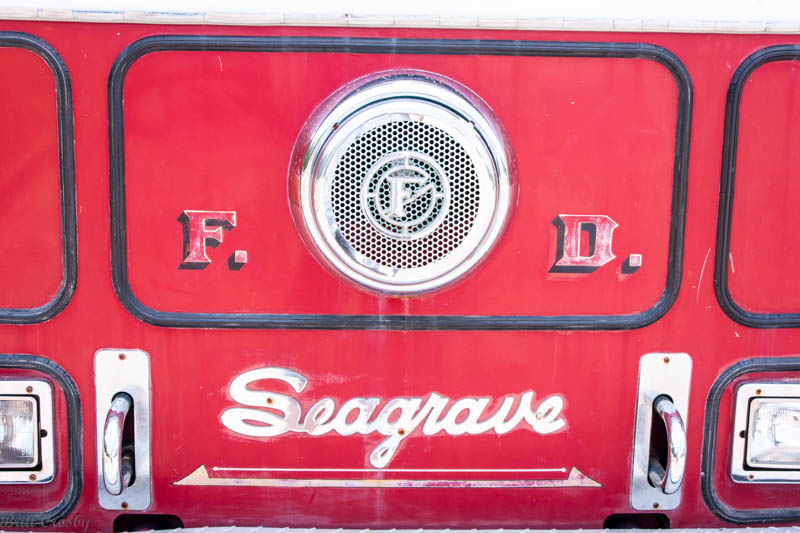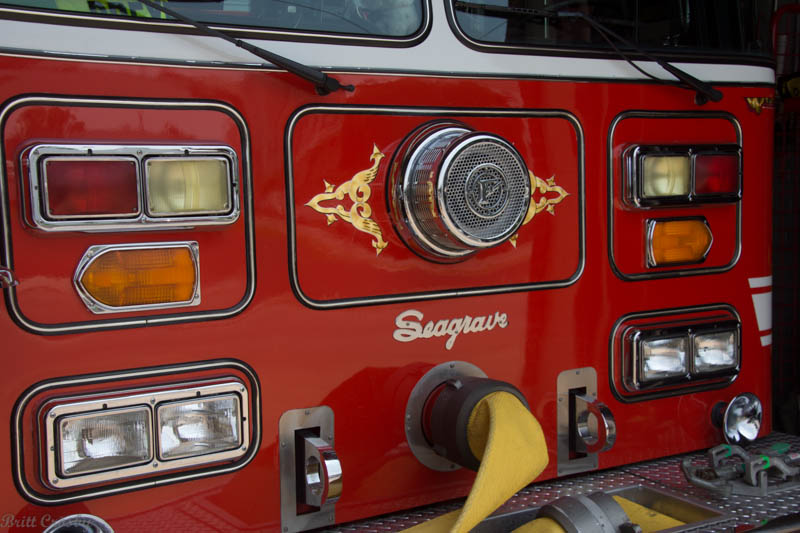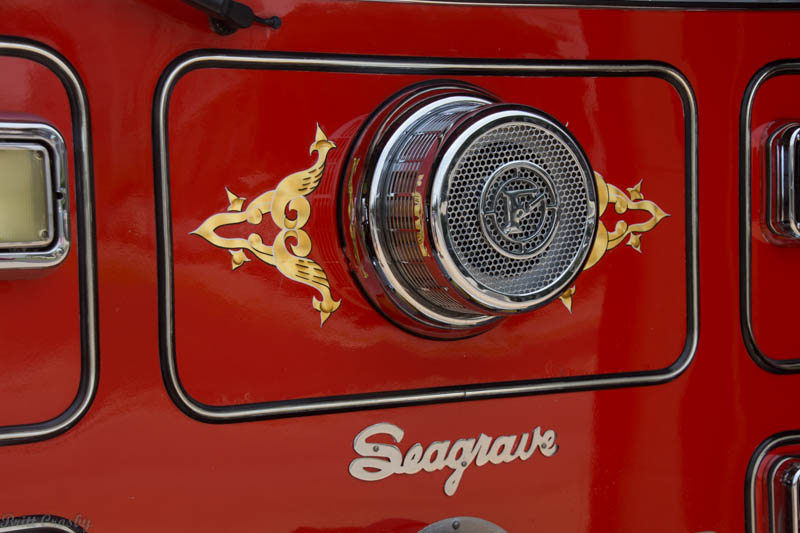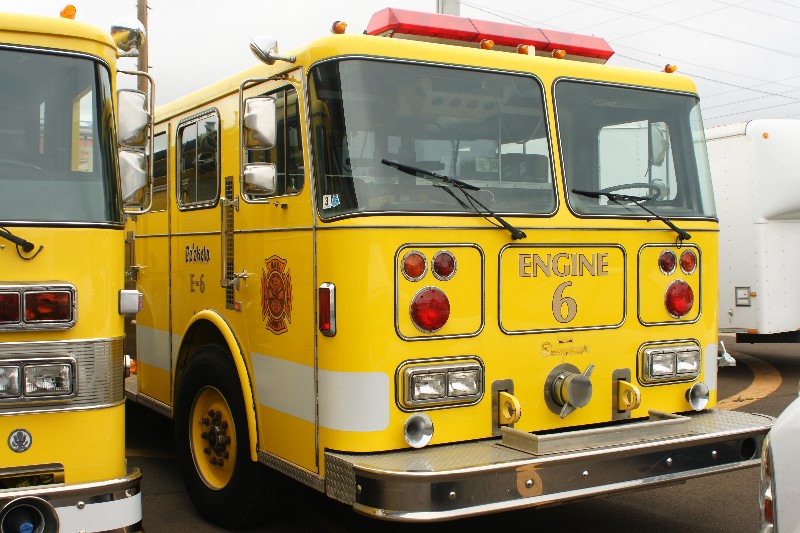 Even without a siren, it is easy to pick out a Seagrave cab.
Even when the siren is hidden, you know its a Seagrave.
The FDNY has utilized many Seagrave apparatus over the years
including pumpers, ladder trucks, and aerial towers.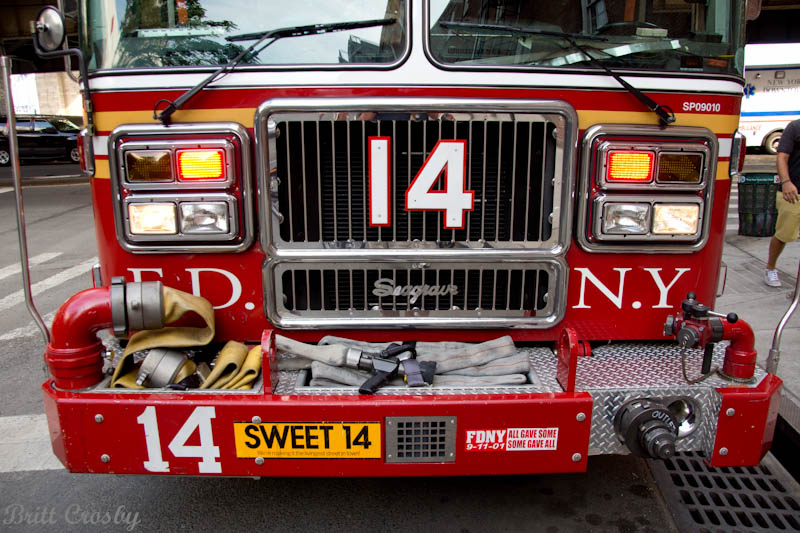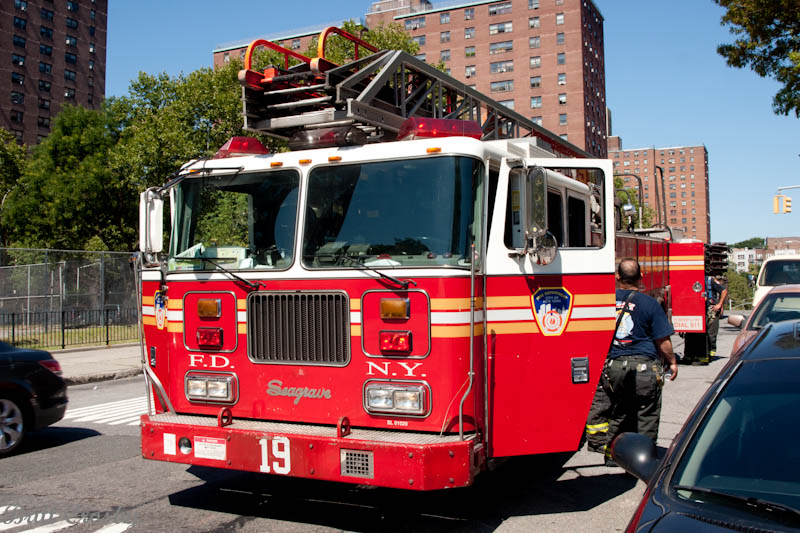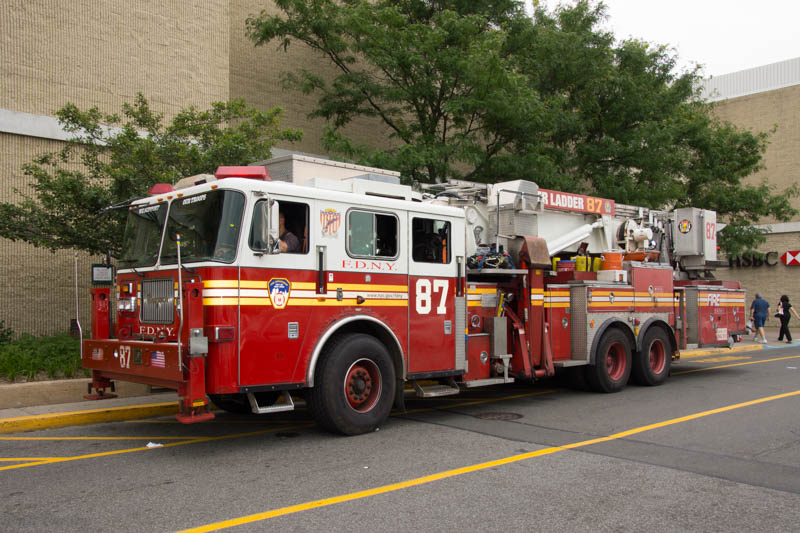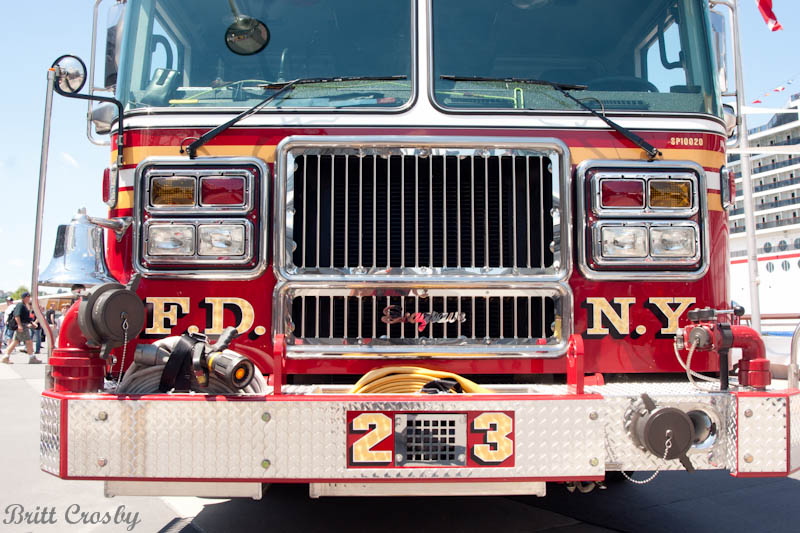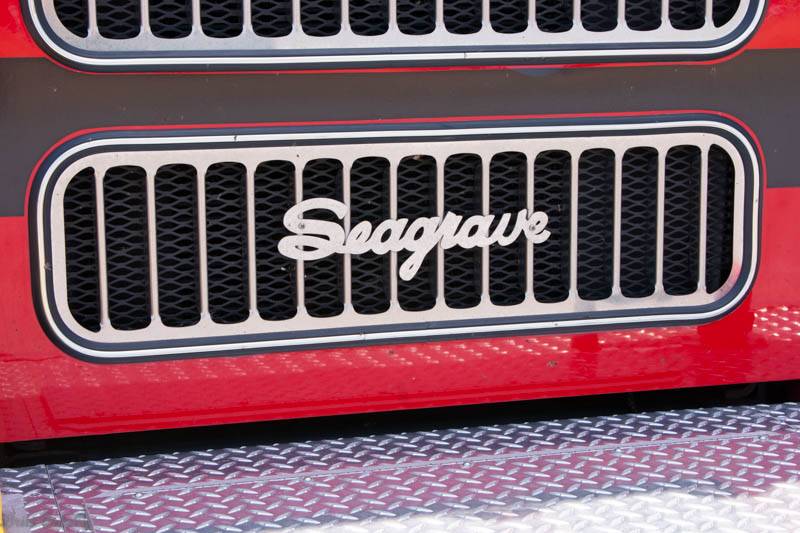 The Seagrave name earned its reputation over more than 130 years.
Modern logo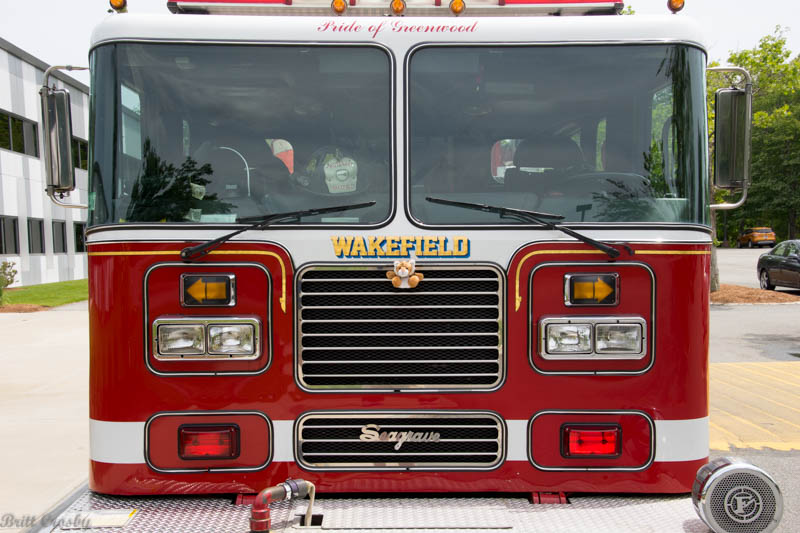 We continue to appreciate the history, innovation, and look of Seagrave fire apparatus.
Enjoy.
SEAGRAVE
~ FIRE APPARATUS ~
~ 1 ~
P1 P2 P3 P4 P5 P6 P7 P8 P9 P10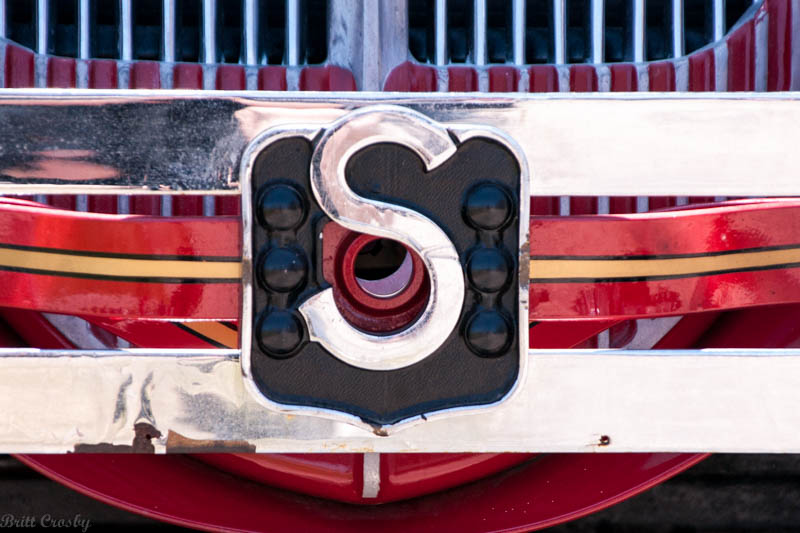 CapeCodFD.com
2018