CapeCodFD.com
Special Feature

<![if !vml]>

<![endif]>


Photos by Britton W Crosby

[ CapeCodFD.com ] [ HOME ] [ SPECIAL FEATURES ] [ FIRE BOATS MAIN PAGE ]

<![if !vml]>
<![endif]>


New Page Added December 1, 2015 Updated July 9, 2018
VIRGINIA BOATS
Alexandria Chesapeake Colonial Beach Fairfax County Hampton
Henrico County Newport News Norfolk OWL / Woodbridge Portsmouth
Virginia Beach York County / Seaford


ALEXANDRIA FIRE BOATS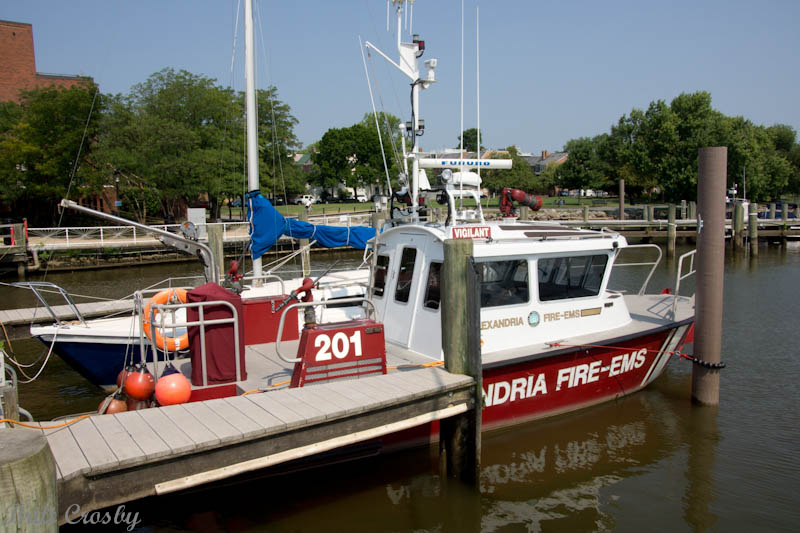 Alexandria, VA
"Fireboat 201"
"Vigilant"
The Alexandria, Virginia Fire Boat 201 "Vigilant" was built in 2005 by Metalcraft.
The Firestorm 32 is 33' 6" LOA with 10'6" beam and a pumping capacity of 2200 gpm.
The fire boat is docked at a marina on the Potomac River near Founders Park
(North Union St.) between Reagan National Airport and the I-95 Woodrow Wilson Memorial Bridge.
This boat was traded in for a larger MetalCraft FireStorm 50 in 2013.
"ALEXANDRIA MARINE 201"
2013 MetalCraft Firestorm 50
50' LOA 15'10" beam
7400 GPM - 4 monitors
100 gallons of AFFF

New Alexandria boat shown at MetalCraft in Kingston, Ontario
August 2013

CHESAPEAKE FIRE BOAT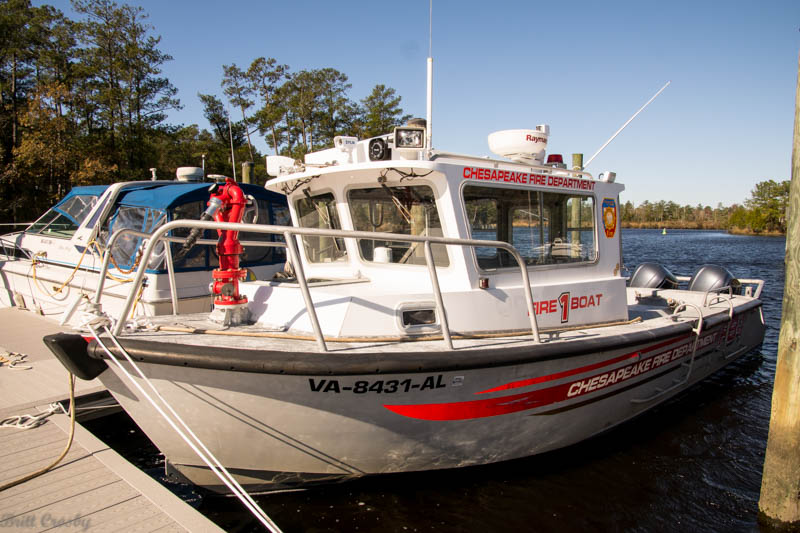 Chesapeake, VA
"Fire Boat 1"
The Chesapeake, VA Fire Boat 1
is located at Wright Marine Services Tilden Ave off Route 190 on the Elizabeth River
in Chesapeake, VA protecting part of the inland waterway
A 30' Winninghoff aluminum boat..

COLONIAL BEACH FIRE BOAT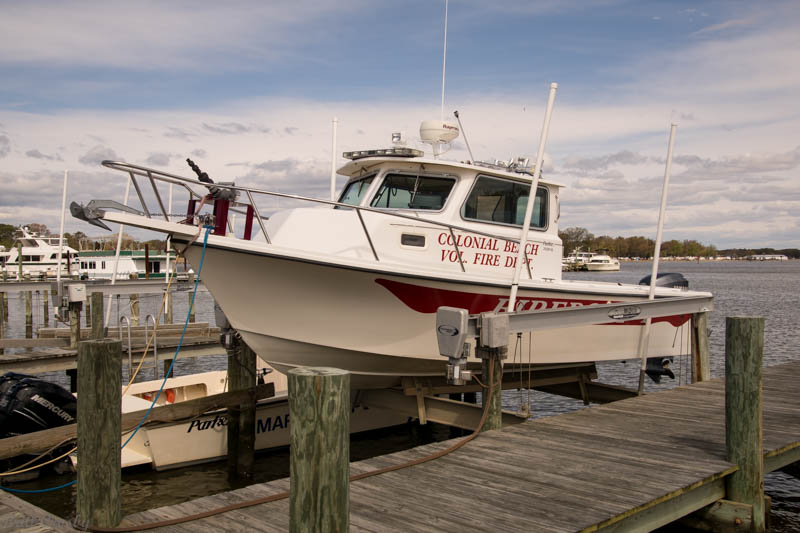 Colonial Beach VFD
"Fire Boat 1"
"Pride of the Potomac"
2010 Parker 2520XL Fiberglass Fire Rescue Boat
25' LOA - Single Yamaha 250 HP
700 gpm pump - 500 gpm deckgun

FAIRFAX COUNTY FIRE BOAT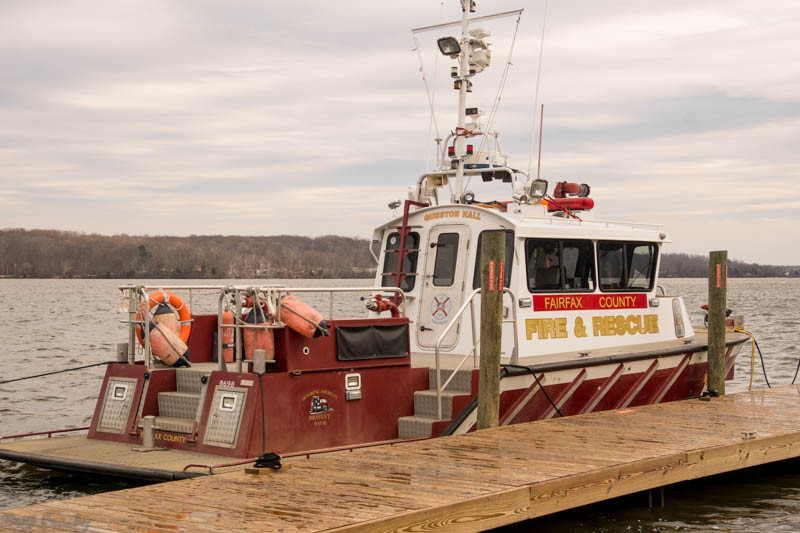 Fairfax, VA
"Fire Boat 420"
"Gunston Hall"
The Fairfax County, Virginia Fire Boat "Gunston Hall" was built in 2005
by MetalCraft Marine. The vessel is a FireStorm 36 with a LOA of 39' 2",
a beam of 13' and a draft of 1' 10". The pump rating is 1750 gpm
with 5 remote controlled monitors capable of flowing over 2400 gpm.
The boat has a maximim speed of 42 mph.
"Fire Boat 420" is located at the Pohick Bay boat ramp on Gunston Cove
on the northern shore of Mason Neck on the Potomac River south of
the Washington, DC metro area. Fairfax County includes approximately
175 miles of shoreline.
Photos Dec 2015

HAMPTON FIRE BOAT


Hampton, VA
"Fireboat 2"
The Hampton, VA Fireboat is a 2006 MetalCraft FireBrand 28
33'5" LOA - 10' 1" Beam - 18" draft
1250 GPM - 1 Deckgun - 40 mph max
Originally delivered red. Now aluminum look.
Jan 2018

NEWPORT NEWS FIRE BOAT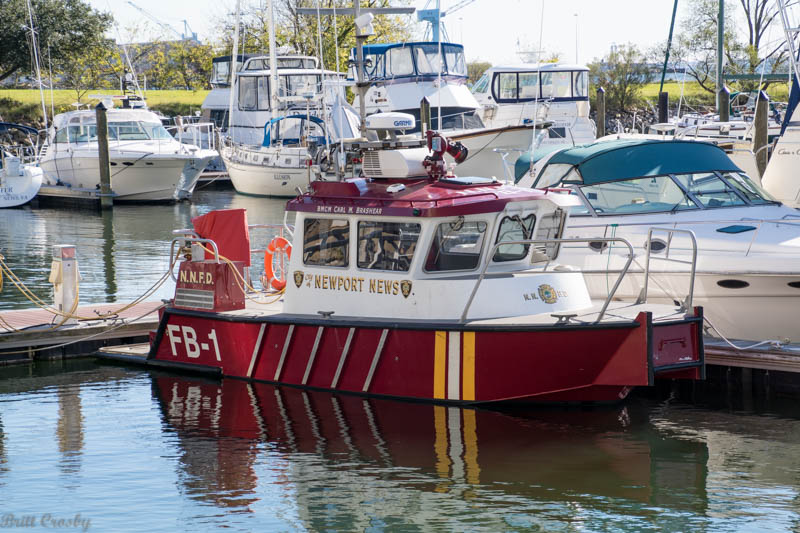 Newport News, VA
"Fire Boat 1"
Newport News, VA
Fire Boat 1
BMCM "Carl M Brashear"
2007 MetalCraft FireStorm 32
2,400 gpm capacity
37 Knots
Boat sunk at dock in Leeward Marina in March 2007
and was rehabbed by MCM.
Re-commissioned Oct 2007.

NORFOLK FIRE BOATS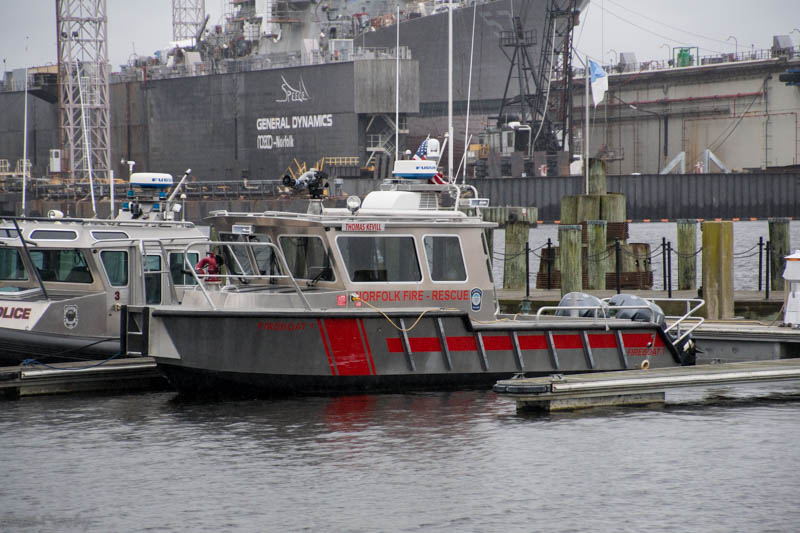 Norfolk, VA
"Fire Boat 1"
"Kevin Kevill"
Norfolk has 2 Fire Boats.
Fire Boat 1 is located in the center city area at the Waterside Marina near the Nauticus
and USS Wisconsin.
Fire Boat 1 is a 2013 MetalCraft Marine Fire Brand 30.
Twin Yamaha 250 HP outboards
34' LOA - Cruise at 40 knots
1,500 GPM
Kevin Kevill as Norfolk's first fire chief from 1871-1894
Photos Nov 2015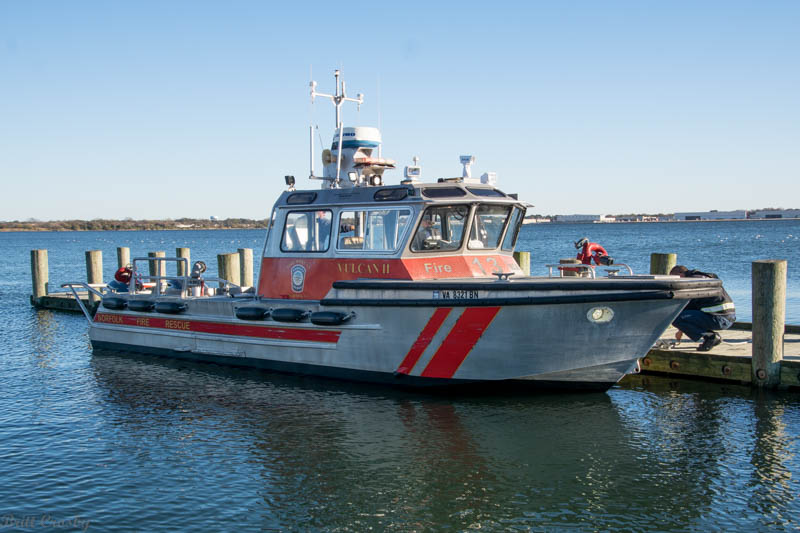 Norfolk, VA
"Fire Boat 13"
"Vulcan II"
Norfolk's second and older boat is the Vulcan II.
Fire Boat 13 "Vulcan II" is docked at the Marina at Willoughby Bay.
Vulcan II is a 2008 30' Argus Class Northwind Marine Fire Boat.
Capacity 3,000 gpm
The boat is staffed by a crew from Station 13 when needed.
Photos Nov 2015

OWL FIRE BOATS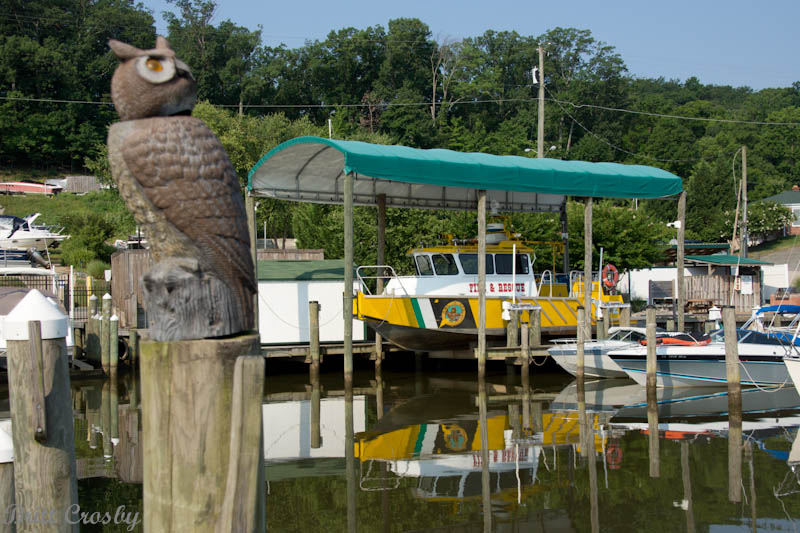 OWL VFD, VA
"Fireboat 512"
"Firestorm"
This 2002 MetalCraft FireStorm fire boat was built
for the Occoquan-Woodbridge-Lorton Volunteer Fire Department
in Prince William County, Northern Virginia.
It is stored at the Hampton Landing Marina in Woodbridge, VA
Designated as the "Firestorm", Fireboat 512 is a 39' loa vessel, with capacity of 2250 gpm
Photos July 2012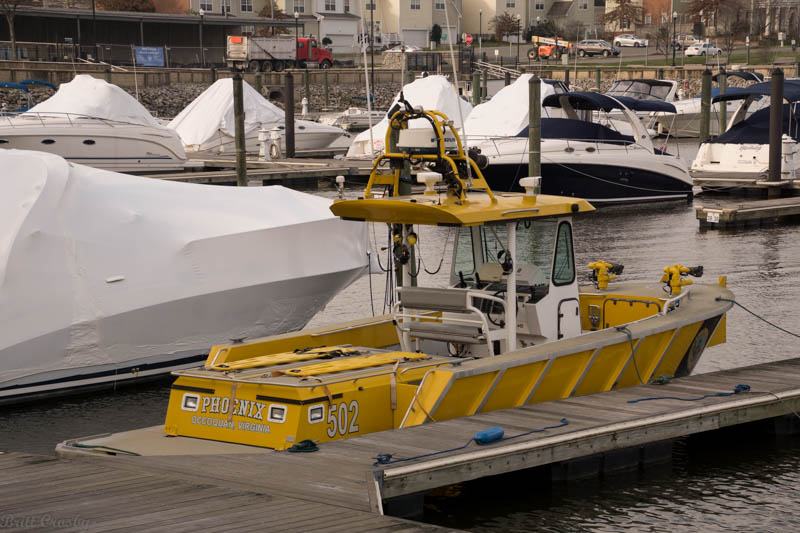 OWL VFD, VA
"Fire Boat 502"
"Phoenix"
The second boat operated by the Occoquan-Woodbridge-Lorton (OWL) Volunteer Fire Department
in Prince William County, Northern Virginia is the "Phoenix" aka Fire Boat 502.
A FireStorm 27 by MetalCraft Marine in 2006.
The boat is 27' long and is powered by twin diesels capable of 34 knots.
The 1000 gpm Hale fire pump can supply three monitors.
The boat is docked at Belmont Bay Harbor on the Occoquan River.
Photo December 2015

VIRGINIA BEACH FIRE BOATS
Virginia Beach, VA
"Fire Boat 1"
The Virginia Beach Fire Boat 1 is located at the Lynnhaven Municipal Marinia
off Lynnhaven Drive in the north end of the city.
It is a Northwind Argus Class 30' boat with a 1500 gpm pump.
Photos Nov 2015

YORK COUNTY FIRE BOAT
York County, VA
"Marine 1"
The York County, VA Fireboat is a 2012 MetalCraft FireStorm 32' Fireboat
35' 9" LOA - 10' 9" LOA - 17" draft
2200 GPM - 38 Knots max
Photos Dec 2017

<![if !vml]>
<![endif]>
VIRGINIA BOATS
Alexandria Chesapeake Colonial Beach Fairfax County Hampton
Henrico County Newport News Norfolk OWL / Woodbridge Portsmouth
Virginia Beach York County / Seaford
RETURN TO

FIREBOATS

FROM


Copyright
Britt Crosby
CapeCodFD.com