SOME OF THE HISTORIC FIRES
While there have been many "Great Fires" (conflagrations) in some of the largest cities of the world, there have also been many large forest fires. Some of these were in southeastern Massachusetts and Cape Cod.

1780 - THE DARK DAY
A forest fire started by an early morning lightning strike in 1780 caused a forest fire that produced so much smoke in the sky west of Sandwich that it was described as "The Dark Day."


1887 - 25,000 ACRES
The forest fire that eventually brought down the Sandwich Glass Works, burned 25,000 acres of forest in Bourne and Sandwich in 1887. The Glass company was a major Cape industry between 1825 - 1894. The forest fire destroyed about 600 cord of stacked wood at the Sandwich factory, as well as several stands of oak and pine ready for cutting that would be used to fire the furnaces. The company was then forced to purchase and burn more expensive coal. That, and a labor union strike are blamed for the end of the company.


1900 - THE GREAT FIRE OF 1900
A forest fire that started in Carver on September 12, 1900 burned all the way to the shores of Cape Cod Bay. The fire was driven by strong winds, the remnants of the great Galveston, Texas Hurricane. The fire burned 4 miles in one 30 minute period. It destroyed many structures along the way.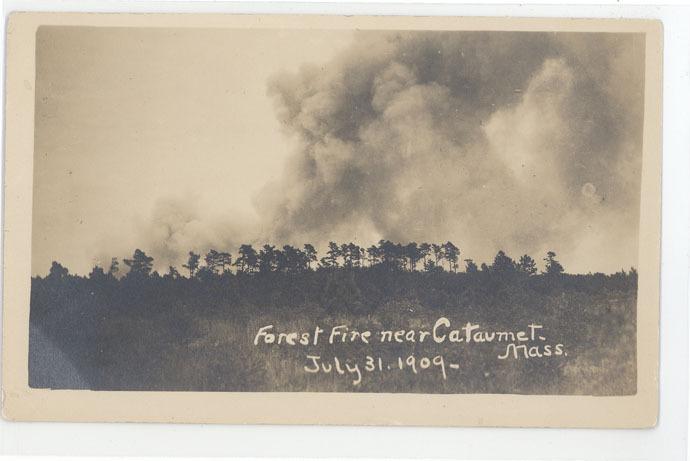 July 31, 1909 Forest Fire in Cataumet, Bourne

1923 - 25,000 ACRES
On May 30, 1923 a fire began in the woods in Pocasset village. By the end of the day, it was thought that the fire was out. By morning however, it picked up again and burned throughout the day. Once again, it was believed to be out at the end of the day, only to flare up again the next day. For 7 days, the fire continued to burn its way from Pocasset to Sagamore, Sandwich, East Sandwich, and South Sandwich. Some 25,000 acres were burned over.
1937 - FIRE BUG
A Fire Bug (arsonist) was blamed for a rash of forest fires in the Plymouth area in 1937. One fire burned about 300 acres from the Bourne line to Herring Pond.
The Fire Bug may have also been responsible for the May 4, 1937 fatal Mast Road Plymouth fire. While that fire was burning, another fire broke out on Island Pond Road, and yet another on Summer Street in Plymouth. These 3 large fires, all burning at the same time, required help from departments in a 20 mile radius. Some 700 men fought the fires.
The following day, another fire began just north of Ponds Road in Plymouth, burning to State Road. These 4 fires, burning over just 2 days, burned more than usually experienced in 5 years. Other fires that were also set, were able to be controlled with less damage.
While many brush fires were considered accidental, caused by a train, the careless disposal of cigarettes, children playing with matches, cook fires out of control, or small fires that got away, it was often the Fire Bugs who caused the largest fires in history. They would sometimes start a fire on a back road, drive a few hundred feet and start another, and so on. These fires would quickly outnumber and out match the ability of a small number of firemen to control them.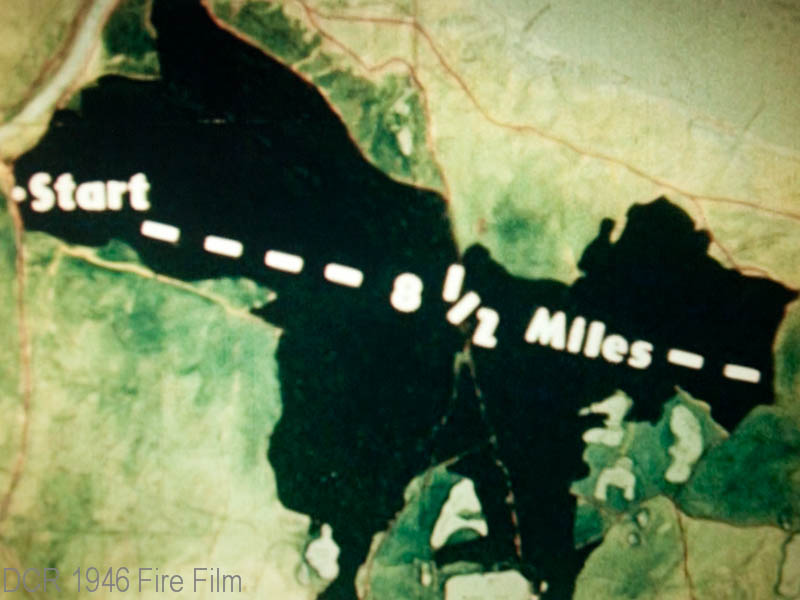 1946 Cape Forest Fire burned 15,000 acres across 8-1/2 miles

1946 - BIG CAPE FIRE
A large Cape Cod fire brought a response from over 45 cities and towns. The fire started on Friday April 19, 1946 in Bourne not far from the Cape side of the Bourne Bridge. The stubborn fire burned for several days and nights until Tuesday April 23, 1946. About 15,000 acres were burned. Some 10 structures were destroyed. Soldiers from the National Guard in New Bedford and Fall River were among those who assisted.
There were at least 23 other fires reported burning in eastern Massachusetts on Sunday April 21, 1946.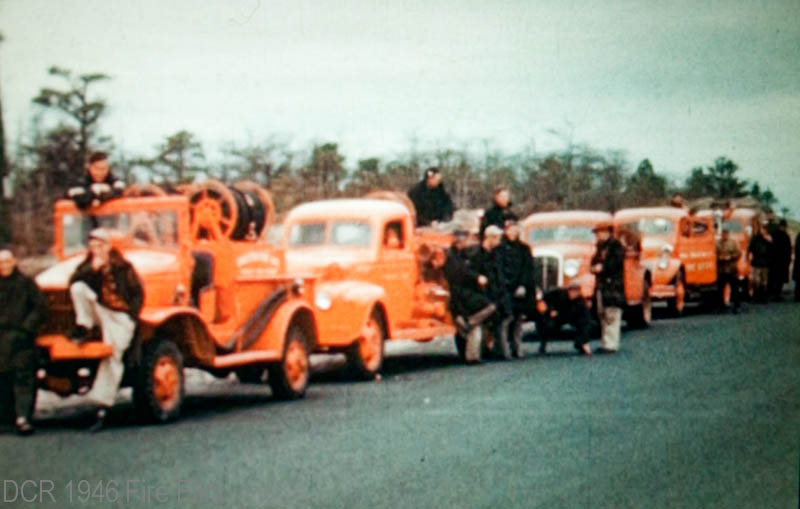 Fire apparatus from 45 cities and towns assisted Cape Cod
This map on the wall at the District 2 Myles Standish office shows fires.

1957 - MYLES STANDISH FIRE
Fire broke out around 3:00 PM on Wednesday May 8, 1957 off Cranberry Road in the Myles Standish State Forest in Carver. A brisk, strong southwesterly wind drove the fire all the way across Plymouth to the water in Manomet, about 12 miles away. Within an hour, there was a 3 mile front of fire.
About 30 minutes before this fire broke out, a Plymouth Fire Department brush breaker had been sent to help battle a brush fire in Mashpee on the Cape. The Plymouth Chief quickly recalled that truck to return to fight the fire in its hometown. The fire would ultimately burn about 15,000 acres. Fire apparatus from Framingham to Provincetown were reportedly involved in the fire fight.
Cape Brush trucks from Bourne, Falmouth, Harwich, Truro, and Onset, as well as many from Plymouth County departments and all State trucks across Massachusetts responded. Soldiers from Otis and prisoners from Plymouth were put to work as well as many local and state police officers. Plymouth Fire Chief Everett B Wood ordered the evacuation of more than 150 people. Approximately 6 cottages were destroyed. Over 3,000 firefighters are believed to have fought the fire.


Smoke from the Carver fire in 1964

1964 - CARVER
A large forest fire burned in South Carver on Saturday May 23, 1964.
Two days later, on Monday, May 25, 1964 at about 1:00 PM, the Fire Tower observed a fire starting up in the Farm-to-Market Road area of South Carver. This was near where the fire burned 2 days earlier. Just 3 minutes later, the Tower observed another fire in the Suther's Marsh Road area off Federal Furnace Road.
Eight brush breakers from Carver and Plymouth responded to the Suther's Marsh fire. Other apparatus, from Wareham responded to the fire in Myles Standish. The Suther's Marsh Road fire was controlled within about 2 hours, but the other fire continued to gain headway and had grown much larger.
The fire continued to burn eastward towards Charge Pond and Camp Cashalot at Five Mile Pond and Little Long Pond. The fire jumped the Agawam River and burned to White Island Pond. Plymouth Fire Chief Arthur Lamb chose to make a stand at White Island Pond to try to block the north end of the fire and at Shangri-La Shores near Glen Charlie Road to the south. About 1,000 men fought the fire as 30 mph winds and extremely dry conditions resulted in the fire destroying about 5,500 acres and some 20 cottages.
One of the structures destroyed in the Carver Fire

The May 1, 1965 fire that jumped Route 6 in Sandwich

1965 - FIRE JUMPS MID-CAPE HIGHWAY
The conditions could not have been worse on May 1, 1965. It had been dry and warm. Temperatures were about 75 degrees. A prevailing southwest wind was bowing at about 35 mph. The Fire Hazard was classified as HIGH.
At about 12:54 PM, the Fire Towers picked up a smoke out on the base (Camp Edwards/Otis Air Force Base). The fire was lined up in the vicinity of Forestdale - Pocasset Road near the impact area. The fire quickly progressed and went on to jump the Mid-Cape Highway (Route 6). The following transcript was provided by Gordon Peters.

12:54 hrs - Brush Fire is Reported on the Base in area of
FORESTDALE - POCASSET ROAD

13:01 hrs - The BOURNE FIRE TOWER Reports the fire is MOVING FAST.
Otis had 2 Breakers Responding.
13:03 hrs - The Bourne Fire Tower Updates A LOT OF FIRE THERE.
13:06 hrs - The Bourne Fire Tower Updates LOOKS REAL BAD.
State Car 2 - District Fire Warden - Requests 7 or 8 Brush Breakers and
4 or 5 Tank trucks.
The Yarmouth Mutual Aid Center KCD 246 handles the request.
Apparatus Dispatched and Responding included:
County Breaker C-15 from North Falmouth
Sandwich Breaker B-142 from Sandwich
Sandwich Breaker B-143 from Sandwich
County Breaker C-14 from West Barnstable
Mashpee Breaker B-250 from Mashpee
Mashpee Breaker B-253 from Mashpee
Bourne Breaker B-130 from Bourne
Bourne Breaker B-128 from Bourne
Town of Barnstable Breaker B-216 from Osterville
Falmouth Tanker 35 from East Falmouth
Sandwich Tanker T-148 from East Sandwich

13:12 hrs - Mashpee Fire Chief Peters Car 251 Reports ON LOCATION -
HE REQUESTED 8 - 10 MORE BRUSH BREAKERS - NOW!
13:12 hrs - Barnstable County Fire Patrol Plane P-18 in the area over the fire
Reports 40 - 50 ACRES BURNING AND SPREADING FAST!
13:15 hrs - Fire Reached WOOD ROAD and is SPREADING FAST.
13:15 hrs - BOURNE FIRE TOWER put in Request for ADDITIONAL TRUCKS
Additional apparatus included:
County Breaker C-12 from Dennis
Harwich Breaker B-65 from Harwich
Barnstable Breaker B-204 from Barnstable
Town of Barnstable Breaker B-215 from Cotuit
13:20 hrs - Calls made to PLYMOUTH COUNTY for
15 MORE BRUSH BREAKERS and 10 TANK TRUCKS
PLUS ALL OF THE DISTRICT 2 TRUCKS
13:25 hrs - The fire reached and CROSSED JEFFERSON ROAD
and was rapidly heading for GIBBS ROAD.
- A plan was quickly made to MAKE A STAND ON ROUTE 6.
- The State Police were asked to CLOSE ROUTE 6.
- A Request went out for ALL AVAILABLE PUMPERS and
TANK TRUCKS RESPOND to ROUTE 6 and ROUTE 130.
- Another Request to PLYMOUTH COUNTY for
ALL AVAILABLE PUMPERS & TANKS TRUCKS to Stage
on BOURNE/SANDWICH LINE Route 6.
13:30 hrs - The fire was about to cross GIBBS ROAD.
Patrol Plane P-18 Reports DOUBT IT CAN BE STOPPED AT ROUTE 6!
13:45 hrs - The fire CROSSED GIBBS ROAD and was
HEADING FOR MID-CAPE HIGHWAY.
14:20 hrs - The FIRE JUMPED ROUTE 6 with Many Trucks on the road.
14:40 hrs - Orders made for ALL PUMPS and TANKERS to
RESPOND TO ROUTE 6A IN SANDWICH VILLAGE
15:30 hrs - The fire is FINALLY STOPPED at SANDWICH VILLAGE
22:30 hrs - Apparatus Released from Mutual Aid
The fire burned several thousand Acres of forest in about 2:45 hours. The blackened area was visible from Route 6 for years until new growth filled in. It came very close to burning right into the most congested and historic part of Sandwich.
Photos and information on the fire came from several sources including Dennis Newman and Gordon Peters.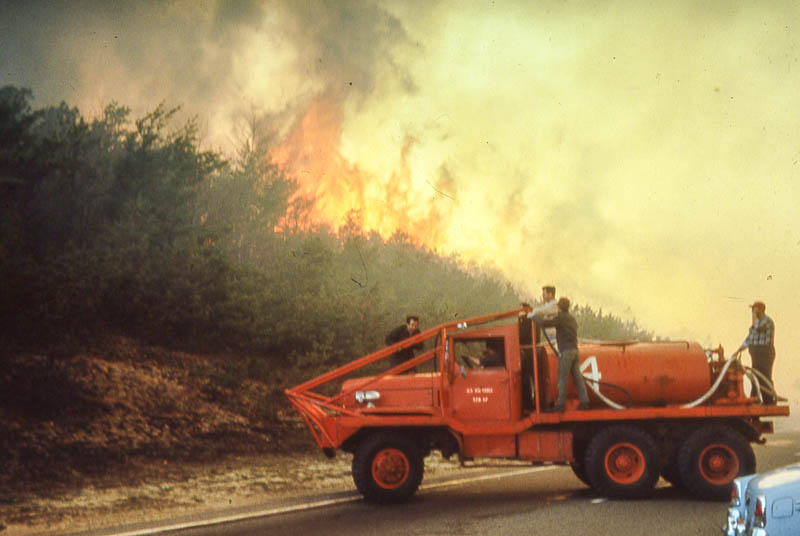 Otis Fire Department Brush Breaker 14 on Mid-Cape as fire approached

1971 - PLYMOUTH FIREFIGHTERS BURNED
A May 15, 1971 fire in the Camp Squanto BSA Campground on the east side of Myles Standish burned about 165 acres. During the fire, the wind changed directions and came down on several brush trucks and crews. Two of the brush trucks, a 1955 Dodge Power Wagon and 1968 International were burned.
Seven Plymouth firefighters were burned during the fire. More than 40 apparatus from Plymouth and Barnstable County battled the fire.
Plymouth 1955 Dodge Power Wagon Breaker burned in 1971

PAVE PAWS Fire on April 22,1988

1988 - PAVE PAWS FIRE
On April 22, 1988 a major fire broke out to the west of the PAVE PAWS radar facility at Otis. The fire grew rapidly as it closed in on the facility and burned around it. Flames reached 60' - 100' in the air and thick smoke covered the area. The fire burned about 2,000 acres. Mutual aid came from both Barnstable and Plymouth Counties. Photos taken from Fire Patrol Plane P-18.

PAVE PAWS Fire on April 22,1988



1991 - 1,200 ACRES BURNED
A fire in 1991 burned about 1,200 acres in Plymouth.
1995 - SOUTH PLYMOUTH FIRE
A fast moving, 25 mph wind whipped forced hundred of residents to flee a fire in the Captains Country and Wind Shores neighborhoods shortly after 1:30 PM on May 8, 1995. The fire burned about 95 acres and threatened hundreds of homes in the Bourne Road area. Mutual aid came from 18 departments, including many from the Cape.