A Special Feature

CAPE COD BRUSH BREAKERS


| MAIN | HISTORY | FIRES | EARLY TRUCKS | DEPARTMENTS | YEARS |
~ Barnstable County Forest Fire Department ~
Page Updated August 21, 2020
~ EARLY TRUCKS ~
1967 INTERNATIONAL / 1982 TED YOUNG BRUSH BREAKER NO.2 B-295

ON THIS PAGE
- Oldest Apparatus
- to
- Newest Apparatus
ABOUT

In the waning days of the Barnstable County Forest Fire Service a 1967 International military 5 ton chassis was acquired and a new brush breaker was built by Ted Young. It had a 1000 gallon tank and rear mounted pump. The truck was built to replace the 1958 Maxim No. 2 C-14 brush breaker that had been assigned to West Barnstable since delivered.
The new breaker however never carried Barnstable County identification and was painted up as West Barnstable Breaker 295, including the community pride of "Shark City" on one side and "Finn Town" on the other. It is shown here in front of the Chicken Coop where it and several other apparatus were housed before the new West Barnstable Fire Station was built in 1988.
This truck had a gasoline motor and standard transmission. It was taken out of service to be refurbished in about 2013 with a diesel, automatic transmission, and general upgrade which has not yet been completed as of 2016.
West Barnstable Breaker 295 was originally planned to be a Barnstable County Forest Fire Service brush breaker, but about the time work began on the truck, the County ended its fire service and West Barnstable Fire Department got the new and final truck planned by Barnstable County.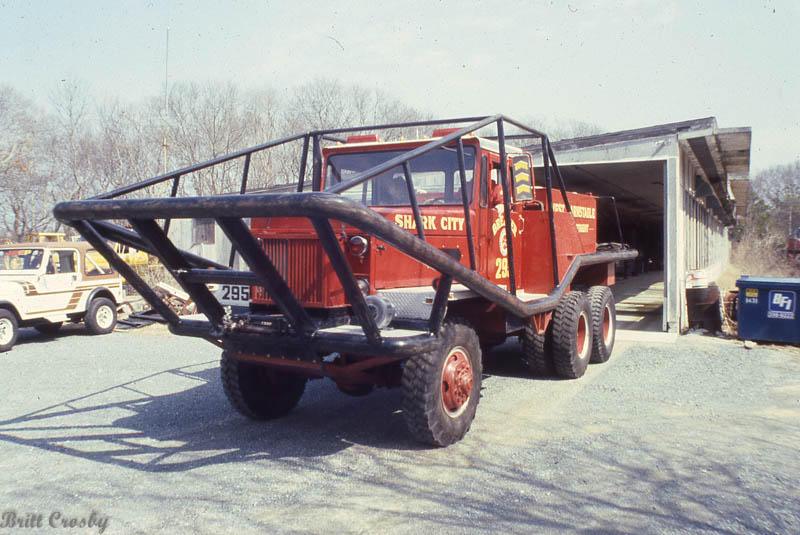 ~ Barnstable County Forest Fire Department ~
~ EARLY TRUCKS ~
1958 MAXIM BRUSH BREAKER NO.2 C-14
Special Feature
Cape Cod Brush Breakers

CapeCodFD.com
2020