A Special Feature

CAPE COD BRUSH BREAKERS


| MAIN | HISTORY | FIRES | EARLY TRUCKS | DEPARTMENTS | YEARS |
~ Barnstable County Forest Fire Department ~
Page Updated November 12, 2020
~ EARLY TRUCKS ~
1949 FORD / ROBINSON BRUSH BREAKER NO.3 C-13

ON THIS PAGE
- Oldest Apparatus
- to
- Newest Apparatus
ABOUT

Barnstable County Forest Fire Service had its third brush breaker built in 1949. County No.3 was built on a 1949 Ford chassis. It was a smaller 6 wheel chassis and only had rear wheel drive, rather than the all wheel drive of the two previous breakers. The new breaker carried 600 gallons of water and could pump about 150 gpm. The third breaker was also built by Robinson Boiler in Cambridge. It was built to fit into a small fire station in Orleans where it would be assigned for its career. It is shown demonstrating its pumping capability at the Barnstable County complex in Barnstable village.

The County No.3, also known as C-13 on the radio, had a couple reels of forestry hose and a top mounted pump. The Orleans Fire Station at the time was at 44 Main Street.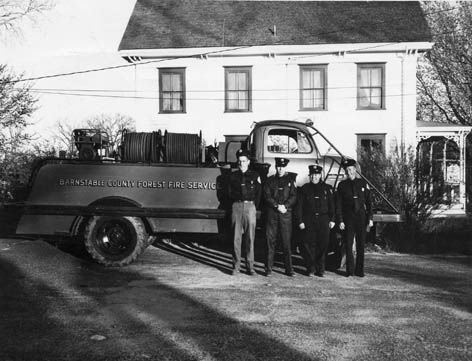 Members of the Orleans Fire Department would staff and operate the 1949 breaker until about 1960 when it would be replaced by the next generation brush breaker.
BOTTOM
~ Barnstable County Forest Fire Department ~
~ EARLY TRUCKS ~
1949 FORD / ROBINSON BRUSH BREAKER NO.3 C-13
Special Feature
Cape Cod Brush Breakers

CapeCodFD.com
2020