The Barnstable County Forest Fire Department was established about 1939 when it built its first Brush Breaker. The 1939 Ford COE 10 wheel chassis was powered by an 85 HP flathead Ford motor and had a Marmon Harrington all wheel drive transmission. The truck reportedly could do 30-40 mph over the road. The body was built by the Robinson Boiler Company in Cambridge, Massachusetts. It was equipped with a 125 gpm pump and 1000 gallon water tank. This truck is best identified by its oval shaped radiator grill.
When it was first built in 1939, No.1 was housed in the Cotuit Fire Station that was built in 1937. In 1942, Barnstable County built another brush breaker known as No.2. When it was delivered in 1942, it went to Cotuit and No.1 was reassigned to the Falmouth Fire Station where it remained until about 1953 when the new North Falmouth Fire Station opened.
The 1939 Ford County Breaker No.1 was assigned to North Falmouth. It served along with the new 1953 Diamond T Engine 3, also built by Robinson Boiler in Cambridge. Engine 3 was a 750 gpm pumper with a 1000 gallon tank. It also was equipped with a second 125 gpm pump allowing it to pump and roll.
As with future County brush breakers, this truck was staffed and operated by the department that housed it. Here, Falmouth Fire Department members ride No.1 in a parade up Main Street Falmouth in the 1940s.
The 1939 Ford County No.1, also known as C-15 on the radio, remained in service in Falmouth until about 1957 when it was replaced by a second generation 1957 Ford/Maxim County No.1 brush breaker. It then went to the West Barnstable Fire Department where it served about a year until the new 1958 breaker arrived.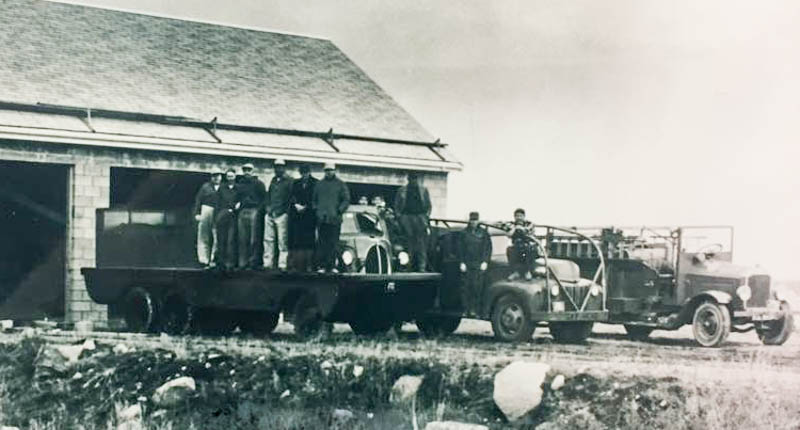 When the 1939 County No.1 was retired by Barnstable County after serving about 18 years, it became available for another assignment and made its way to Martha's Vineyard where it would go on to serve with the Gay Head Fire Department in 1958. It went on the serve another 25 years or so, eventually disappearing in the mid 1980s after approximately 45 years of duty.
The old 1939 County No.1 in 1984 sitting outside the Gay Head Fire Station on Martha's Vineyard after some 45 years of duty.