CapeCodFD.com
CAPE COD BRUSH BREAKERS
FIRE DEPARTMENT
Brush & Forest Fire Apparatus History
BARNSTABLE COUNTY

~ FALMOUTH ~
FIRE DEPARTMENT
Page Updated January 17, 2022
Department Photo












PAGE CONTENTS

01

M
MAP
<PREV TOP NEXT>
Map Image
Info
1A
<PREV TOP NEXT>
NEW UNIT
Photo
Info
1B
<PREV TOP NEXT>
NEW UNIT
Photo
Info
1C
<PREV TOP NEXT>
NEW UNIT
Photo
Info
1D
<PREV TOP NEXT>
NEW UNIT
Photo
Info
1E
<PREV TOP NEXT>
NEW UNIT
Photo
Info
1F
<PREV TOP NEXT>
NEW UNIT
Photo
Info
1G
<PREV TOP NEXT>
NEW UNIT
Photo
Info
1H
<PREV TOP NEXT>
NEW UNIT
Photo
Info
1I
<PREV TOP NEXT>
NEW UNIT
Photo
Info
1J
<PREV TOP NEXT>
NEW UNIT
Photo
Info
1K
<PREV TOP NEXT>
NEW UNIT
Photo
Info
1L
<PREV TOP NEXT>
NEW UNIT
Photo
Info
1M
<PREV TOP NEXT>
NEW UNIT
Photo
Info
1N
<PREV TOP NEXT>
NEW UNIT
Photo
Info
1O
<PREV TOP NEXT>
NEW UNIT
Photo
Info
1P
<PREV TOP NEXT>
NEW UNIT
Photo
Info
2A
<PREV TOP NEXT>
More Unit - Info
Photo
Info
2B
<PREV TOP NEXT>
More Unit - Info
Photo
Info
2C
<PREV TOP NEXT>
More Unit - Info
Photo
Info
2D
<PREV TOP NEXT>
More Unit - Info
Photo
Info
2E
<PREV TOP NEXT>
More Unit - Info
Photo
Info
2F
<PREV TOP NEXT>
More Unit - Info
Photo
Info
2G
<PREV TOP NEXT>
More Unit - Info
Photo
Info
2H
<PREV TOP NEXT>
More Unit - Info
Photo
Info
2I
<PREV TOP NEXT>
More Unit - Info
Photo
Info
2J
<PREV TOP NEXT>
More Unit - Info
Photo
Info
2K
<PREV TOP NEXT>
More Unit - Info
Photo
Info
2L
<PREV TOP NEXT>
More Unit - Info
Photo
Info
A
<PREV TOP NEXT>
NEW UNIT
Photo
Info
B
<PREV TOP NEXT>
More Unit - Info
Photo
Info



CapeCodFD.com
A Special Feature

CAPE COD BRUSH BREAKERS


| MAIN | HISTORY | FIRES | EARLY TRUCKS | DEPARTMENTS | YEARS |
FIRE DEPARTMENT
~ Falmouth Fire Department ~
Page Updated August 21, 2020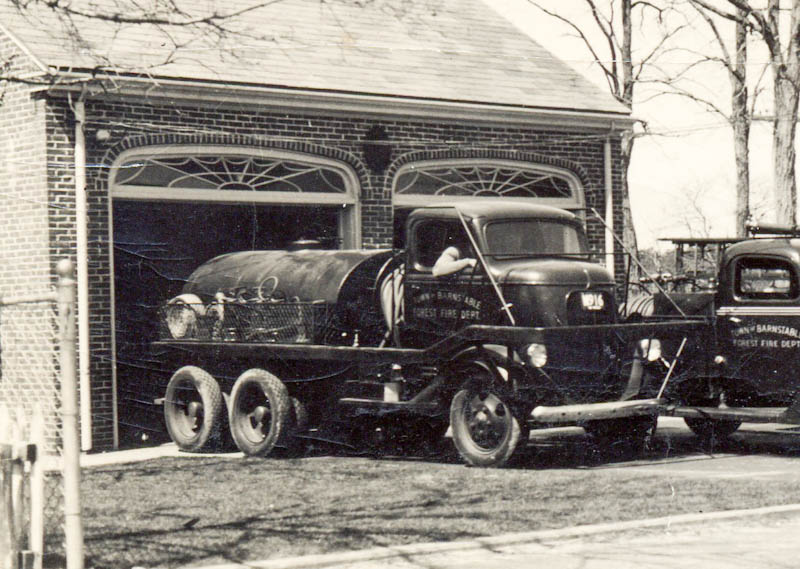 ON THIS PAGE
- Oldest Apparatus
- to
- Newest Apparatus
MAP

1935 Ford Tank 1
1935 Tank 1 and 1938 Engine 5
Supporting any brush fire operation would require a tanker. Falmouth operated this
1935 Ford 800 gallon tanker as Tank 35. It served until 1965.
Some departments built engines that could also serve as tankers and be able to
battle grass and brush fires. Maxim built this large pumper for Falmouth in 1938.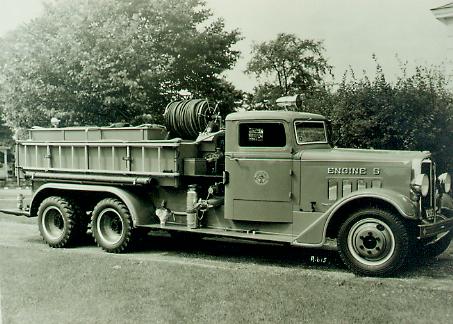 Falmouth Engine 5 had a 500 gpm pump and 1000 gallon tank.
It was assigned to East Falmouth from 1938 to 1963
Falmouth Engine 5 was mostly water tank. Upon retirement from Falmouth it served
another 7 years as Mashpee's Engine 5.
1942 (1939) Ford County No.1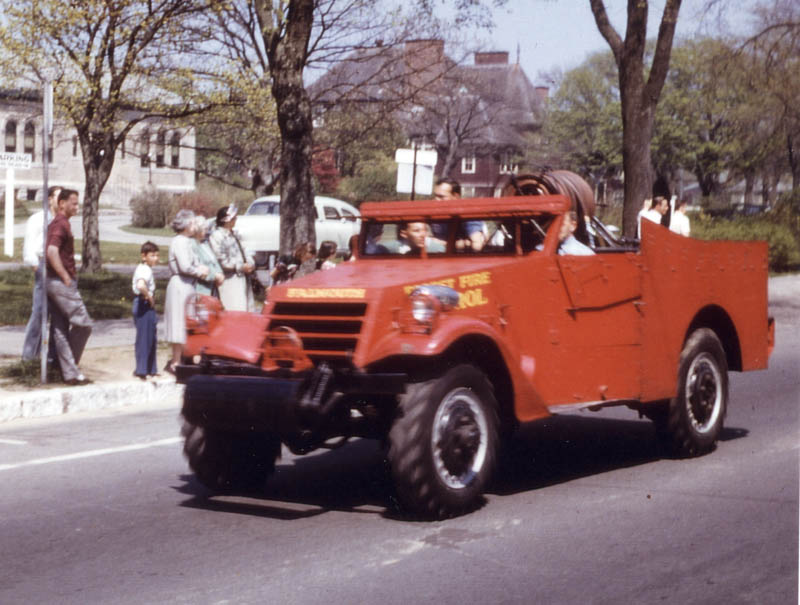 1940s Scout Car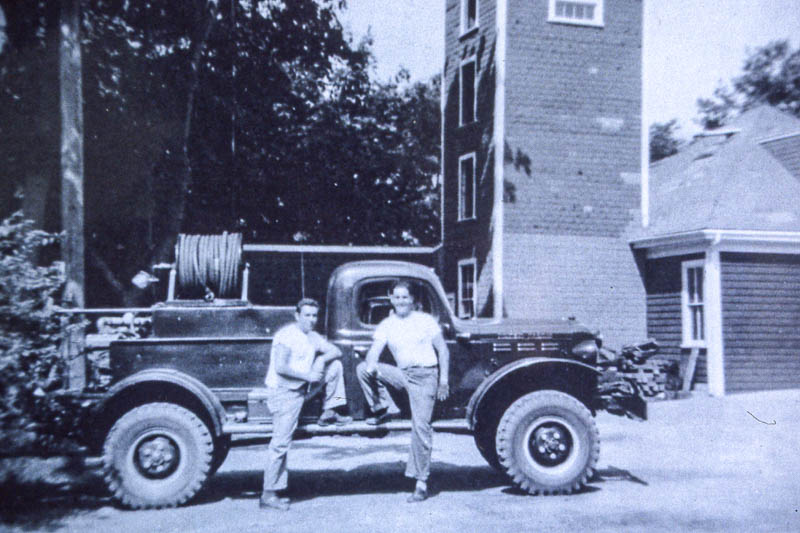 1940s Power Wagon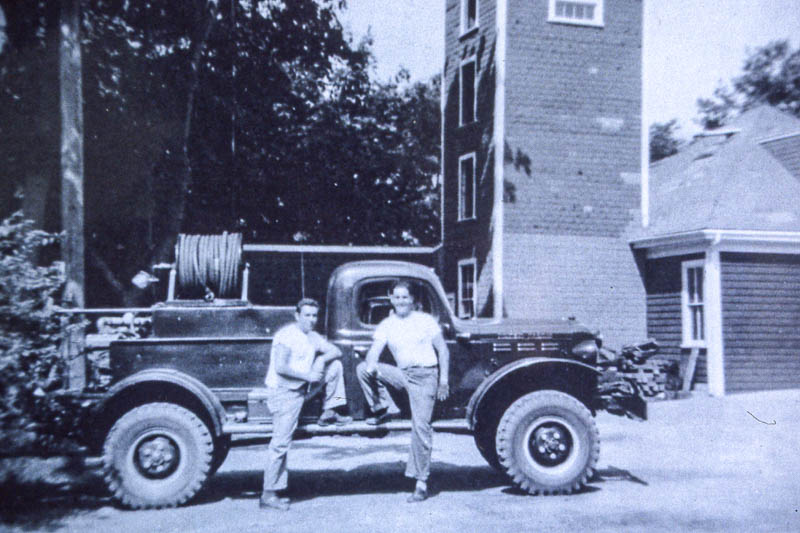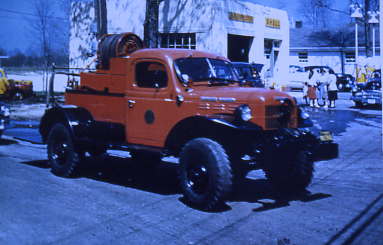 Falmouth Dodge Power Wagon brush truck from 1940s.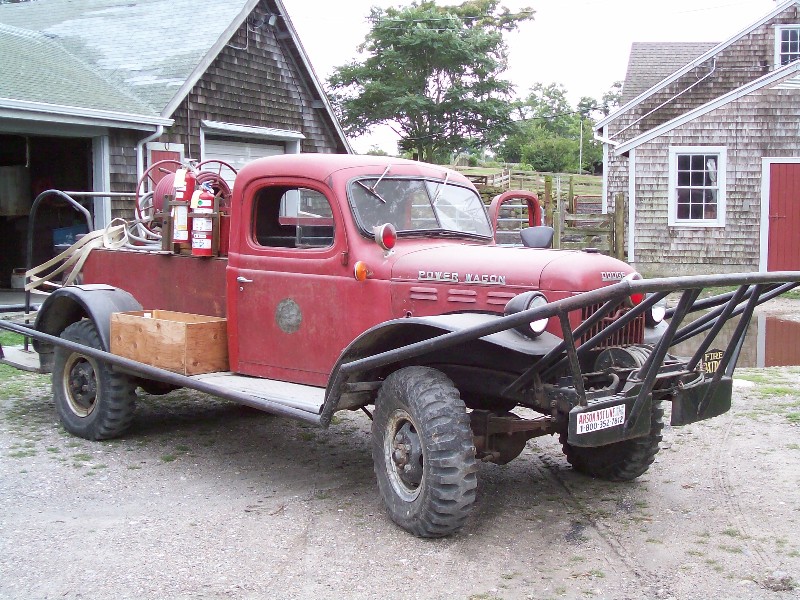 1946 Dodge Power Wagon brush breaker
Originally Falmouth Car 30 had about a 200 gallon tank.
It was "retired" around 1980 and had a second career
protecting Naushon Island.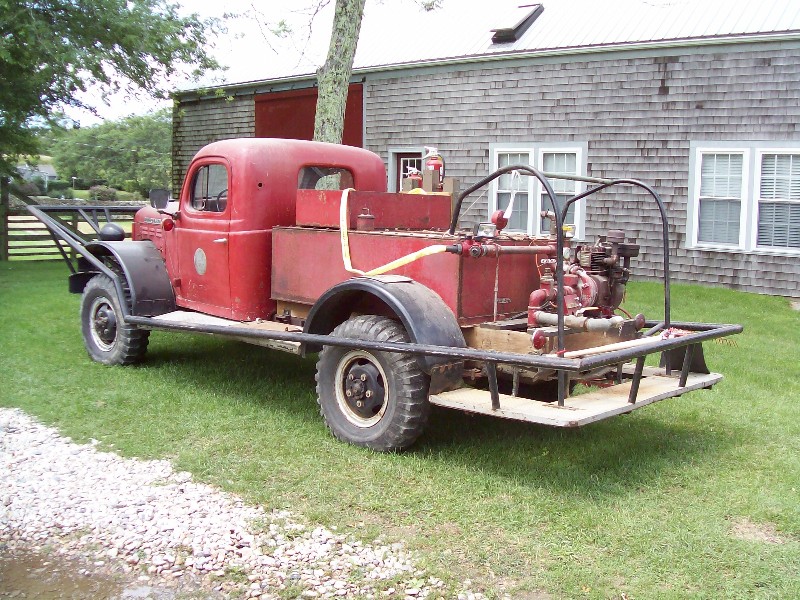 1946 Dodge Power Wagon
Upon its final retirement in 2009 from Naushon,
the old breaker was purchased privately and restored
to beautiful and near original condition.
It is currently (2010) kept in Bourne.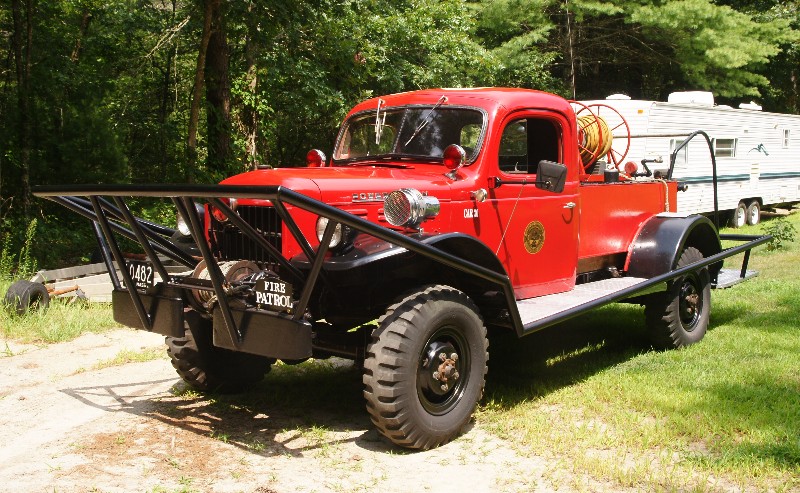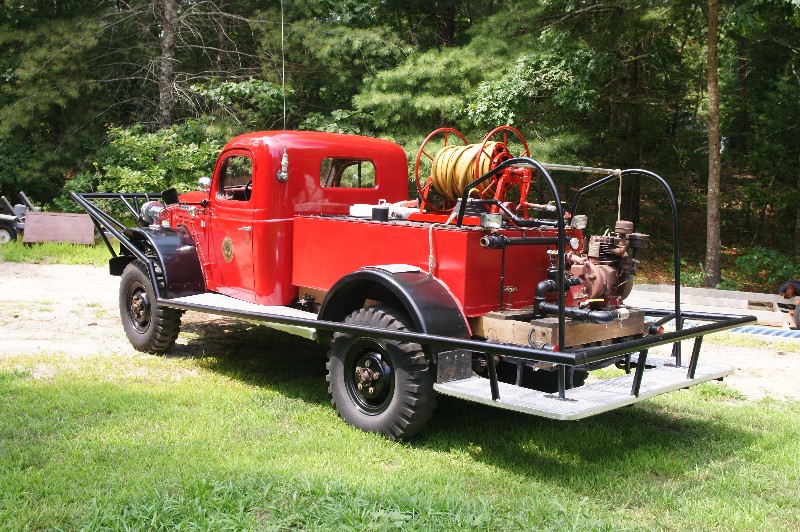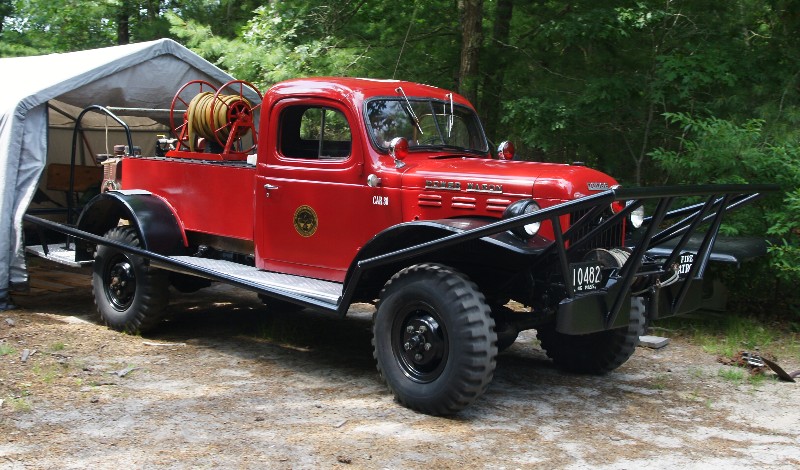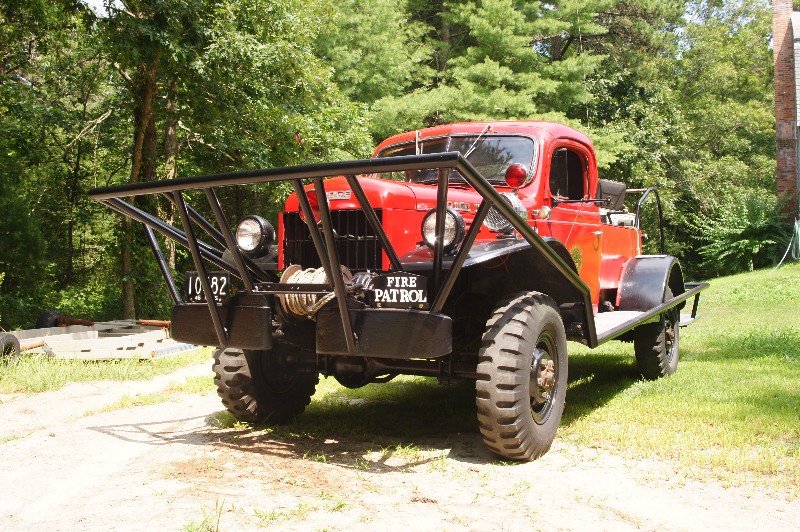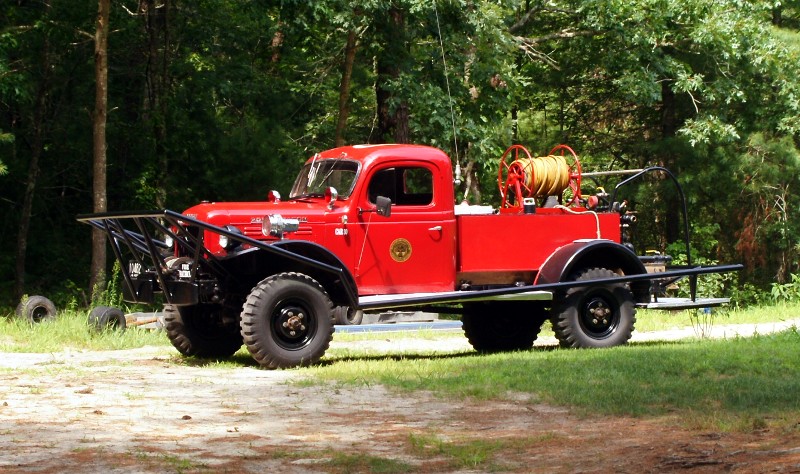 1956-57 Ford/Maxim County No. 1 C15
1965 Int/Maxim 1000 gal Tanker 1 / 35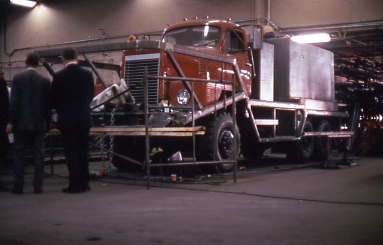 1971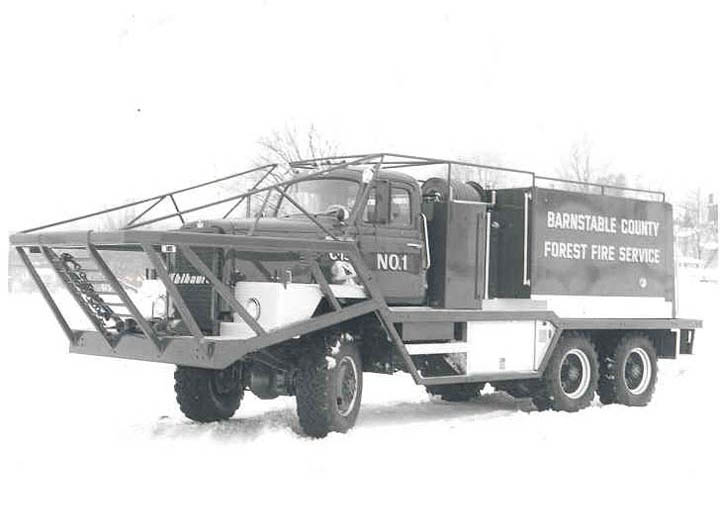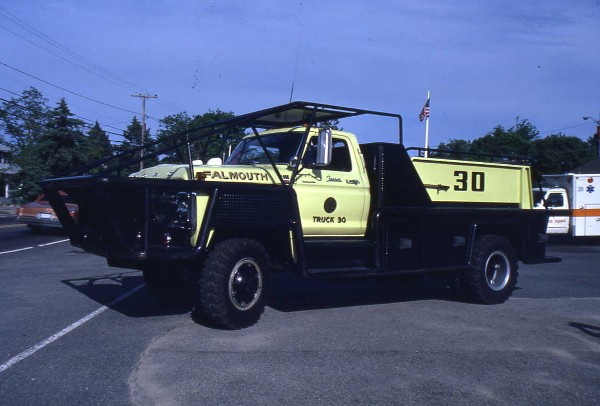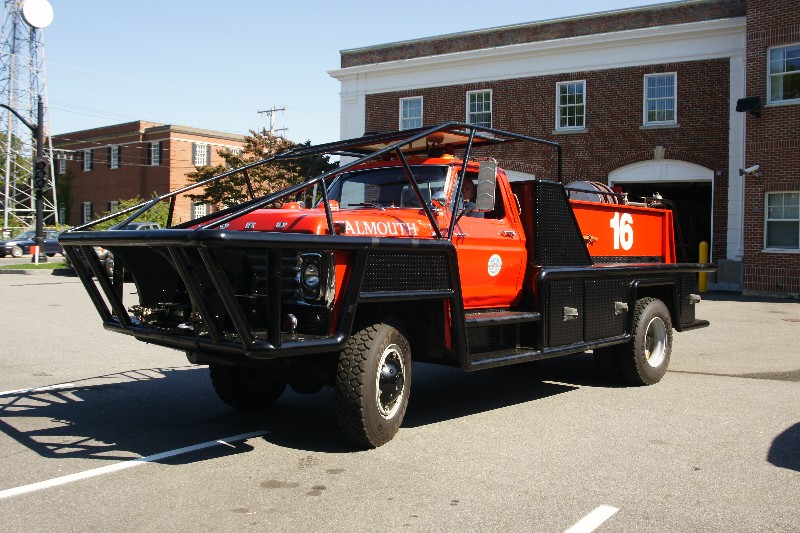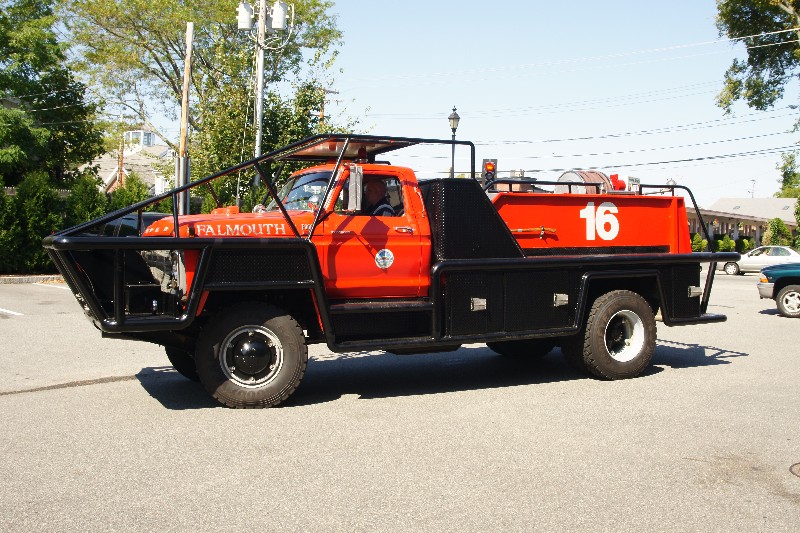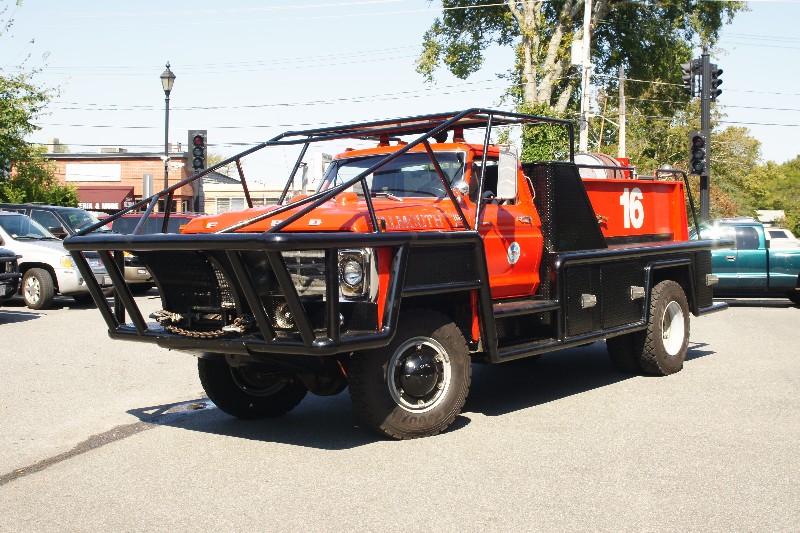 FIRE DEPARTMENT
~ Falmouth Fire Department ~
Special Feature
Cape Cod Brush Breakers

CapeCodFD.com
2020