CapeCodFD.com
Special Feature Presentation
[Back] [Features] [Next]

<![if !vml]>
<![endif]>


FIRE APPARATUS PHOTOS - Page 1
By Britton Crosby
March 15, 2005 - September 19, 2010 Update

Ahrens - Fox

Ahrens-Fox Fire Engine Company built over 1500 fire engines between
1911 and 1977. The roots of the company go back to the 1850s under
different names. In 1975, the Ahrens Manufacturing Company got it start.
In 1891 Ahrens merged with three other manufacturers to become the
American Fire Engine Company which in 1903 merged with International
Fire Engine Company to become the American LaFrance Fire Engine Company.
Ahrens Mfg. broke from American LaFrance in 1904 and in 1910 became
the Ahrens-Fox Fire Engine Company. Ahrens Fox was recognized as the
'Rolls Royce" of fire trucks, reflecting not only its expense but also it quality.
Many Ahrens Fox pumpers are still operational today, some 75 years or so
after they were built. Few fire apparatus can match that.
The Ahrens-Fox pumper is most commonly recognized by its front mount
pump with the familiar chrome sphere mounted on top. The sphere is actually
an air chamber that helped 'smooth out' the action of the the piston pump.
Rather than spurting with each movement of the piston, the sphere would help to
equalize the pressure for a more continuous, steady and powerful flow of water.
The sphere on some engines has been preserved and represents a truly
beautiful work of art that once served as a working part of the most powerful
fire engines of the day.
Not all Ahrens Fox apparatus had the sphere. There were several styles of
Ahrens Fox apparatus over the years, but without question, the most beautiful
and unique would be those with the chrome ball. The last Ahrens-Fox apparatus
were predecessors to the Mack C apparatus.
The Ahrens-Fox Fire Engine Company was a major contributor to the fire service
for many years and we admire those "Rolls Royce" of fire engines that are still
around for us to study and appreciate.
Some of the reference material on Ahrens Fox came from the book by
Ed Hass on "Ahrens-Fox: The Rolls Royce of Fire Engines."

FOX LINKS
Ahrens-Fox Fire Buffs Association
New HME "Ahrens Fox" apparatus


The Chrome Sphere of an Ahrens Fox pumper at Lynnfield 1992.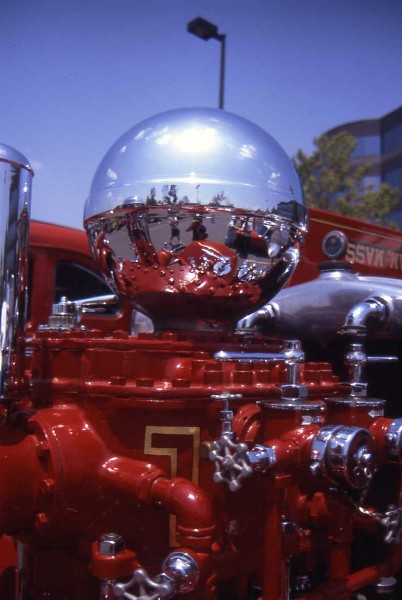 Lynnfield 1992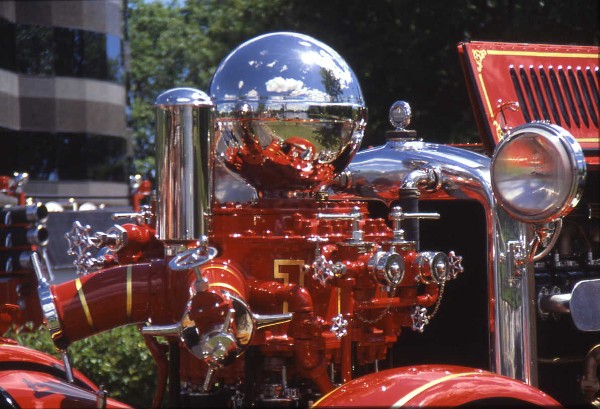 A beautiful Fox at Lynnfield 1994.

Hingham Engine Co.No.2 at Lynnfield 1992.

Another Fox from Cumberland, Carlisle, PA at Lynnfield 1992.

Phily 1988. A couple Foxes on display.

The impressive front mount pump of the Ahrens-Fox engine
represents the awesome power of the most powerful fire engine
of its day. Lynnfield 2004.

Lynnfield 2004.
The remarkable beauty of the Ahrens Fox chrome sphere.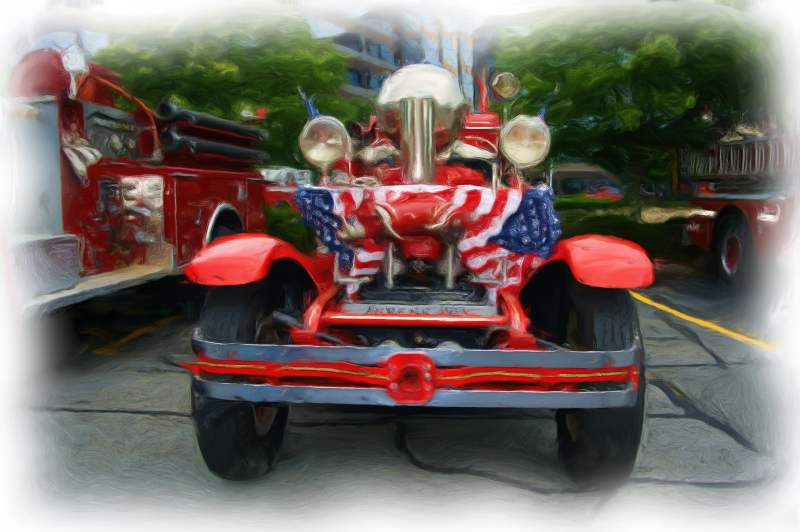 Ahrens Fox at Lynnfield 2010

<![if !vml]>

<![endif]>
Copy Right
CapeCodFD.com
2005