CapeCodFD.com
Special Feature
KID'S DAY 2005
P2
For several years now, the Barnstable Police Department and the five Barnstable Fire Districts have joined together
with others to sponsor KID'S DAY. This popular event was held again this year on Saturday August 6, 2005 at the
field behind the Barnstable High School. Participation included the Barnstable departments, the Yarmouth Police,
Sandwich Police, State Police, Barnstable Sheriff's Department, and more. It was attended by many families on a
spectacular summer day. Displays and demonstrations were conducted in the educational events and
fun was had by all!

Barnstable / Yarmouth Police Department's Special Response Team
demonstrated several techniques for capturing bad guys.

Flash / Bang grenade gets suspect's attention... as well as the attention of many onlookers.

Team fires a net to control a suspect.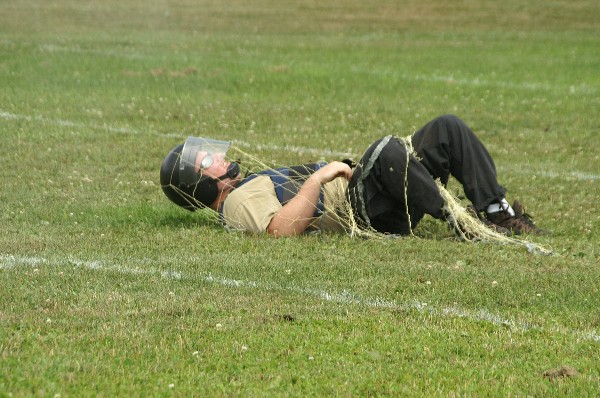 Smoke bomb set off.

Wind changed and large crowd got a good first hand look at the effectiveness of the smoke.
CapeCodFD.com
August 7, 2005