CapeCodFD.com
[ Home ] [ Features ]

100th Anniversary "First Response"

Cotuit Chemical Company No.1
1916 Model T's First Response
March 17, 1917
The Cotuit Chemical Company No.1 provided fire protection
in Cotuit from 1912 to 1926, the years prior to the formation
of the Cotuit Fire District.
The "first" motorized fire apparatus
on Cape Cod, according to historical references, was a 1916
Ford Model T Chemical engine built by American LaFrance.
The Model T had twin 25 gallon chemical tanks, a ladder,
tools, and equipment. It was housed in a small station on
Main Street near School Street, in Cotuit.
According to records, the first response of the Model T
was on March 17, 1917 at about 7 P.M. when a small
fire occurred in a second floor closet at John Harlow's
house in Santuit during a rain storm. Damage was minor.
As an interesting pierce of trivia, the first response of
the Cotuit Chemical No.1's first apparatus, a hand drawn
chemical wagon occurred on Feb 22, 1913 in the evening,
also with rain and muddy roads, was to a chimney fire
at the Harlow house in Santuit. The same dwelling that
the Model T responded to its first call! 12 of the 14
members of the fire company turned out for that first
call and reached the scene in 10 minutes.
Cotuit continues to maintain this historic piece of fire
apparatus which is taken out for parades and events.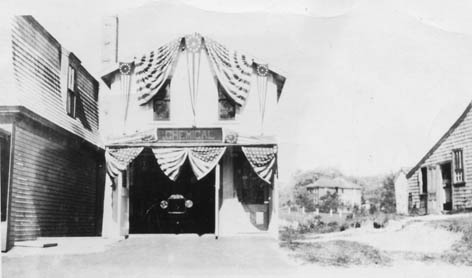 Cotuit Chemical No.1 Fire House
with Model T visible inside
Cotuit Chemical No.1 Chemical wagon c.1912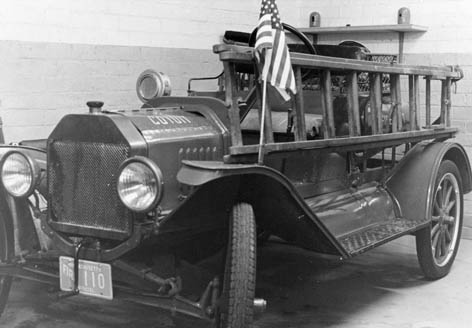 The Old Cotuit Model T
The First Motorized Fire Apparatus
On Cape Cod