CapeCodFD.com
HYANNIS
NEW FIRE STATION PROJECT
Hyannis Fire Station Approved
Hyannis Fire Station Approved!
HYANNIS VOTERS APPROVE NEW FIRE STATION
After several years of planning, several failed votes, and a lot of work to
come up with a new Headquarters Fire Station plan that will serve the
community for many years to come, voters approved construction of a
new station by over 73% at the special district meeting held on
April 9, 2016.
The $18.5 Million station is expected to be about
33,000 square feet in size and will be built on parcels of land previously
purchased adjacent to the present station.
The new station replaces the station built in 1965 on High School Rd Ext.
which has been outgrown for many years.
Congratulations to Hyannis on approving this new facility!
April 2016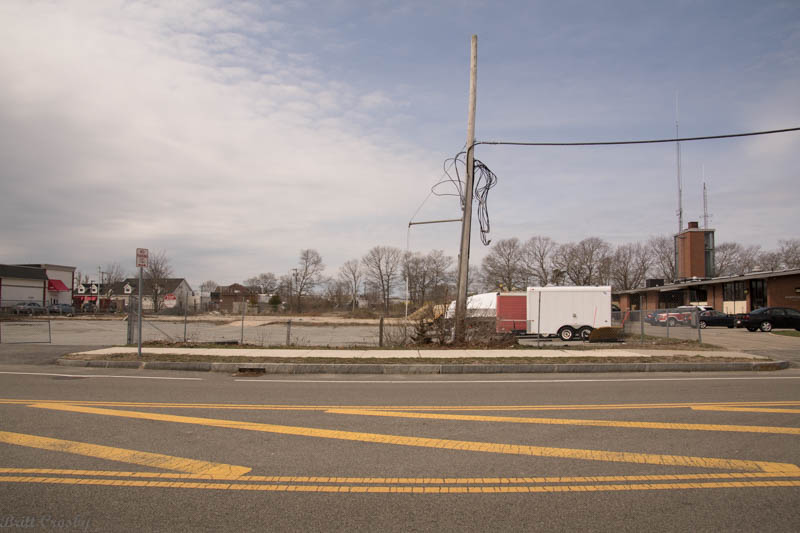 The new fire station will be built on the land just south of the present station.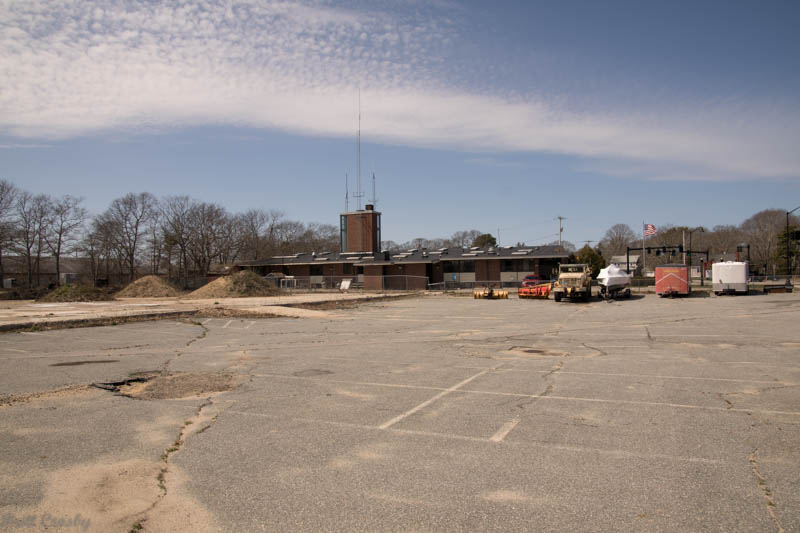 The lot was once a roller skating rink and parking lot.
It served a number of other purposes before being bought
by the Hyannis Fire District with the anticipation of building
a new fire station.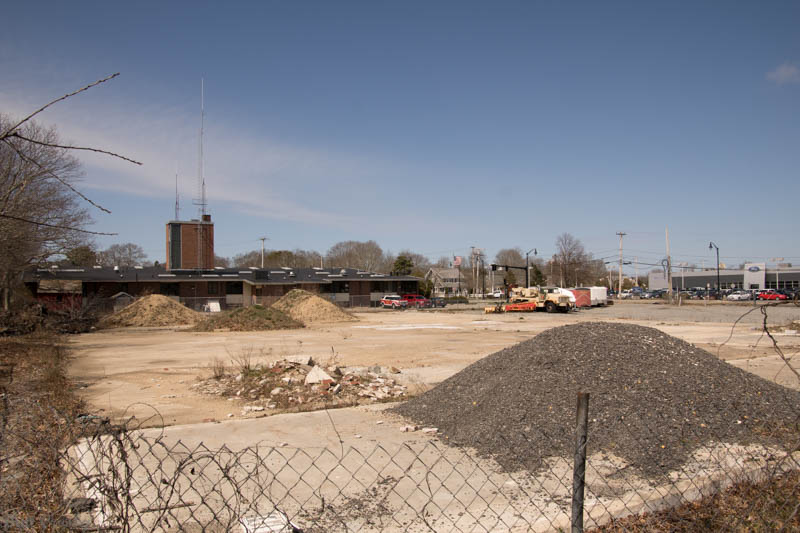 Hyannis to seek Fire Station
Approval in April 2016
Fourth Attempt
A special district meeting will be held on April 9, 2016 to once again
ask the voters to approve a new fire station. Three previous attempts
over the past two years failed to get the necessary votes.
The building committee has slashed about 22,000 square feet off
the original proposed building that would have been designed to
meet present and future needs. The present proposal will be about
33,000 square feet. Several lots surrounding the present station
were already purchased years ago with the intention of building
a new fire station and having the lot to support parking and
outside training on site.
The present station opened in 1965 on high School Road Ext.
At that time, the department was a mostly on call fire department
with only a couple permanent firemen on duty. Apparatus in
those days were much smaller and EMS was still in infancy.
The department responded to about 600 calls a year in a much
simpler time. That original building has already been added
onto a couple times to house ambulances and equipment.
The original drive through and drive around station with
adequate parking was lost over 20 years ago when the
addition was squeezed onto the lot, taking parking spaces.
Today, Hyannis responds to more than 7,000 calls a year.
Staffing is at 12 per shift and it is not unimaginable to
continue to see a need for additional staffing over the
next decade or so. Modern apparatus is considerably larger
and some of the specialized equipment that is needed
today was not even imagined in 1965. The apparatus
floor is packed to the max with little or no flexibility
to do anything differently.
While there is a mechanic bay for repairs, it was not designed
for the larger apparatus which must frequently be maintained
outside, sometimes in foul weather, or sent out of the district
to Centerville or elsewhere to conduct work with apparatus being
taken out of service sometimes weeks at a time.
The department has utilized a master mechanic to keep the fleet
of 3 engines, an aerial tower, a heavy rescue, 3 very busy frontline
ambulances, a fire boat,a dive rescue vehicle, several cars
and support units in safe operational service.
The new facility would increase the work shop area for
maintaining and repairing apparatus, some of which are
valued at over $1 Million each and are expected to serve
actively and safely for 20-30 years.
So much of the modern fire service and fire stations today
involves the "business" end of the job including administrative,
fire prevention, public education, training, record keeping,
information technology, billing, and so much more that was
not part of the 1965 design of a fire station.
Having 12 or more personnel on duty 24 hours a day in one
building also requires appropriate facilities. Obviously there
are spaces for basic human needs such as kitchen and dining
areas, sleeping/ready rooms for overnight rest, bathrooms,
locker rooms, and rooms for meetings, training, and such.
Administrative, fire prevention, and various public access
spaces are also required and expected today by a community.
The need for a modern fire rescue station is Hyannis is
without question. It was without question already, even
to those who refused to vote in favor. It came down to
how much it would cost, as is unfortunately how many
decisions are made, rather than what is the need and the
most effective and efficient way to provide the services
over the long term.
That said, the building committee wisely designed a
facility to meet present and future needs of the district
when it first presented its plans. It took into account
the fact that history shows additional space needs in
the future are inevitable and the price of building that
space is unlikely to go down over the years.
To cut the price of the job, the committee has worked
hard to chop the size of the building in ways that
hopefully will not cause too much regret down the road.

Wisdom comes from learning from the mistakes
made by others and that includes those who by
not anticipating the realistic needs of the future
have doomed communities to paying more for less
instead of saving money by doing it right.
Hopefully the Hyannis voters will support the new
station now while borrowing is as cheap as it has
ever been and get this job done right so that the
next generation doesn't have to face the same problems.
Jan 16, 2016
Hyannis Fire Station
Hyannis Fire Department
The status of the Hyannis Fire Station project is uncertain following
three rejections by voters over the last year or so.
The station built in 1965 has numerous issues that need to be addressed
whether or not a new station is built at some point. Apparatus floor
space is full with apparatus that has become larger over the years
and space for personnel was exceeded some time ago.
A variety of station proposals and modifications were presented
to voters in 2014. The district had acquired land around the present
station on High School Rd Ext. over the past few years to have the
space needed to construct a facility that could serve the busy
community for the next 50 years or more.
UPDATE March 2015
One view of the first proposed station
The station was flipped taking into consideration the need to keep the
present station operational while the new station was to be built.

Site prep for new station March 2017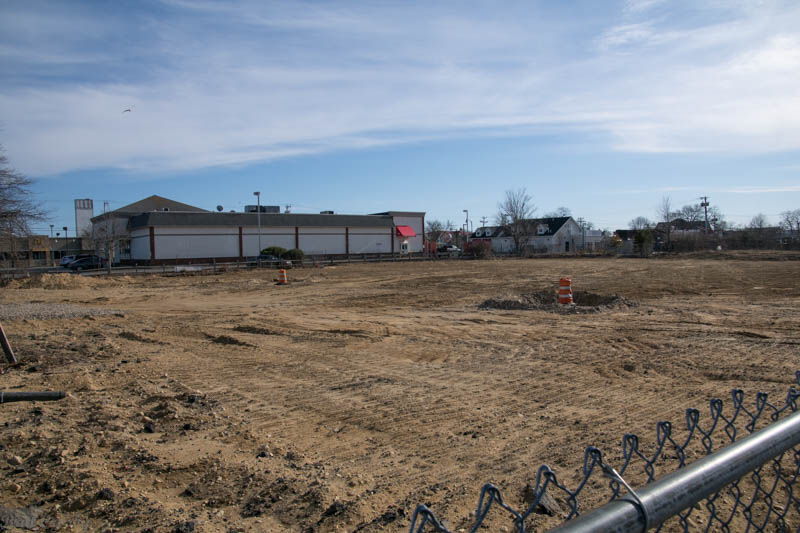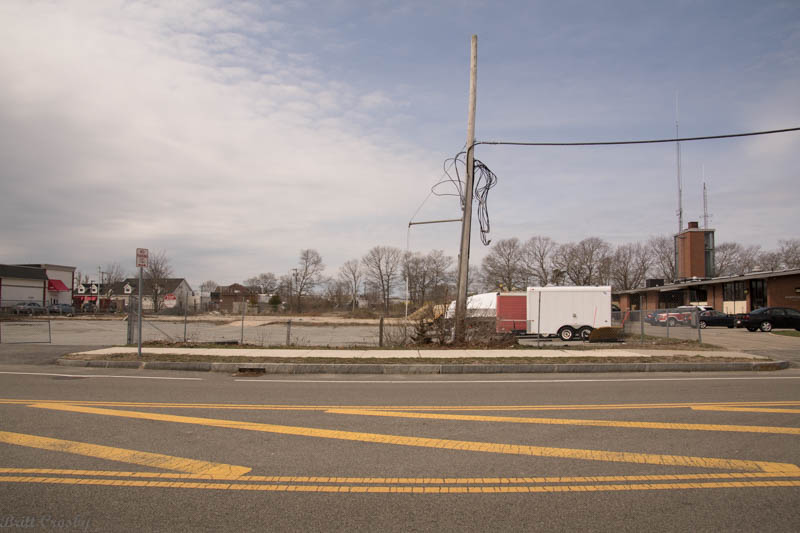 New Hyannis Fire Headquarters

May 8, 2017 Ground Breaking
FUTURE HYANNIS FIRE HEADQUARTERS
It took a number of years to get approval, develop plans, and prepare the site for
a new Hyannis Fire Headquarters. Ground will be broken on Monday May 8, 2017
as construction gets under way on the new station which was approved at the April
2016 Special District meeting. The 33,000 square foot, $18.5 Million station will
be built on High School Road Ext., with the first phase being built next to the present
station. Once completed, the new section will be moved into and the old station will
be torn down to make room for the rest of the new station - additional bays.