ARFF

CapeCodFD.com Special Feature
AIRPORT RESCUE FIRE FIGHTING
APPARATUS

ARFF

Crash Trucks
Protecting Our Airports

- - - -- - - - - - - - - - - - - - - Updated December 28, 2011 - - - - - - - - - - - - - - - - - - -
<< Prev Home To Main Terminal Features Next >>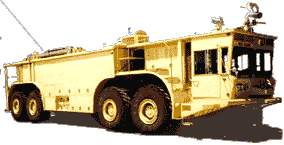 1 - Main Terminal
Airport Crash Trucks are cool! There is simply no better way to put it.

These specialized apparatus have evolved over the years into some of the fastest, most powerful, and sophisticated fire apparatus we know of today. The ARFF apparatus originated to protect military airfields, aircraft and pilots. Much of the advances in the technology of ARFF apparatus came out of the experiences of military crash crews. Today, most airports have some form of ARFF protection. There have been and are a number of manufacturers of ARFF equipment. Among the more prevalent in the U.S.A. would be Oshkosh, Walter, American LaFrance, Emergency One, and Rosenbauer. There have been many other companies that have built crash trucks and many around the world still doing so today.

No matter the manufacturer, all ARFF apparatus have some basic features in common. They are constructed with the ability to go 'off road' in all kinds of conditions to reach downed aircraft. They carry their water with them. They have pumps that can engage while the apparatus is still rolling. The pump and roll capability is carried out by a turrent nozzle that can be control from within the cab. They have foam tanks that when mixed with carried water can put a powerful punch on fuel fires. Many also carry dry chemical agents as well. Most ARFF apparatus can be operated by one or two crew members from within the apparatus. ARFF trucks are able to respond at high speeds to reach all parts of airfields quickly. In addition to the basics, some ARFF units are being built now with elevated stream devices, carry jaws of life tools, and have additional technologies that enhance their duty. They come in all sizes, shapes, and colors.

I have always been fascinated by these unique fire apparatus and have admired their capabilities. I have photographed many of them in my travels, and continue to do so. I hope you admire them as I do and enjoy this feature.
Select the following Runways to view ARFF Apparatus. Have a good flight.

RUNWAYS
1 - ARFF - Feature Main Terminal
2 - ARFF - Cape Cod - Barnstable Municipal Airport (HYA) <<1990
3 - ARFF - Cape Cod - Barnstable Municipal Airport (HYA) >>1990
4 - ARFF - Cape Cod - Otis Air National Guard Base (OTIS) <<1970
5 - ARFF - Cape Cod - Otis Air National Guard Base (OTIS) >>1970
6 - ARFF - Islands - Martha's Vineyard Airport (MVY)
7 - ARFF - Islands - Nantucket Memorial Airport (ACK)
8 - ARFF - Mass - Boston - Logan International Airport (BOS)
9 - ARFF - Rhode Island - Providence - T.F. Green (PVD)
10 - ARFF - Other Crash Trucks from across USA
11 - ARFF - Pennsylvania - Philadelphia International (PHL)
12 - ARFF - Florida - Orlando International Airport (MCO) Page 1
13 - ARFF - Florida - Orlando International Airport (MCO) Page 2
14 - ARFF - Texas - Dallas-Fort Worth International (DFW) Guest Pics
15 - ARFF - Hawaii - Honolulu (O'ahu) International Airport (HNL)
16 - ARFF - Hawaii - Kahului (Maui) International Airport (OGG)
17 - ARFF - Cape Cod - Provincetown Municipal Airport - KPVC
18 - ARFF - Tennessee - Nashville International Airport - KNBA


Updated Dec 28, 2011 - Added Nashville International Airport ARFF photos.
Updated Dec 8, 2011 - Added Provincetown Municipal Airport. Added photos to Massport / Logan Airport.
Updated Nov 9, 2009 - Hyannis BMA photos added P3 & P5
Updated May 3, 2009 - Boston Logan photos added P8
Added May 3, 2009 - Honolulu International Airport Hawaii P15
Added May 3, 2009 - Kahului International Airport Hawaii P16

Updated Sept 1, 2008 - Otis Apparatus updates P5
Updated Sept 6, 2007 - Providence TF Green units p9 -
Updated April 23, 2006 - Dallas-Fort Worth International Unitsp14 -
Updated April 23, 2006 - Orlando International Units p12/13 -
Updated April 23, 2006 - Phily International Units p11 -
Updated April 3, 2006 - Worcester Airport units p10 -



Airport with runways, taxiways, terminals,
and surrounding properties. ARFF units
are stationed with the ability to reach all
aspects of the airport quickly in the event
of an emergency.

ARFF Apparatus stands ready to respond on a moments notice.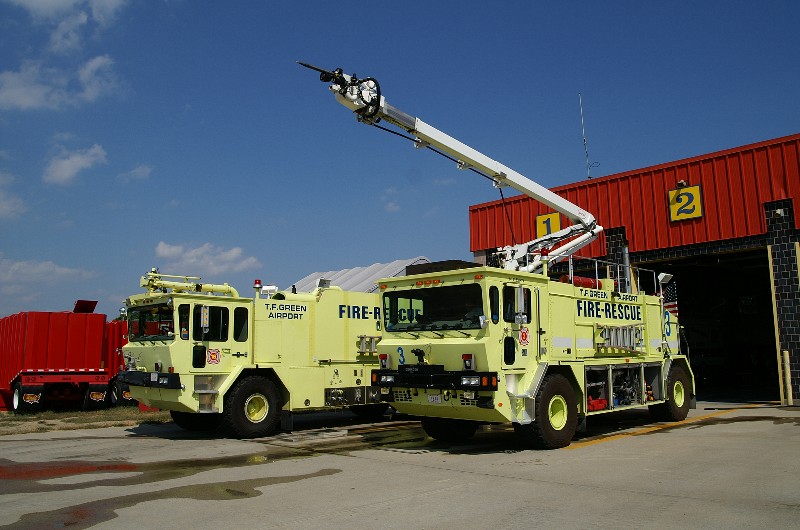 Ever more powerful and capable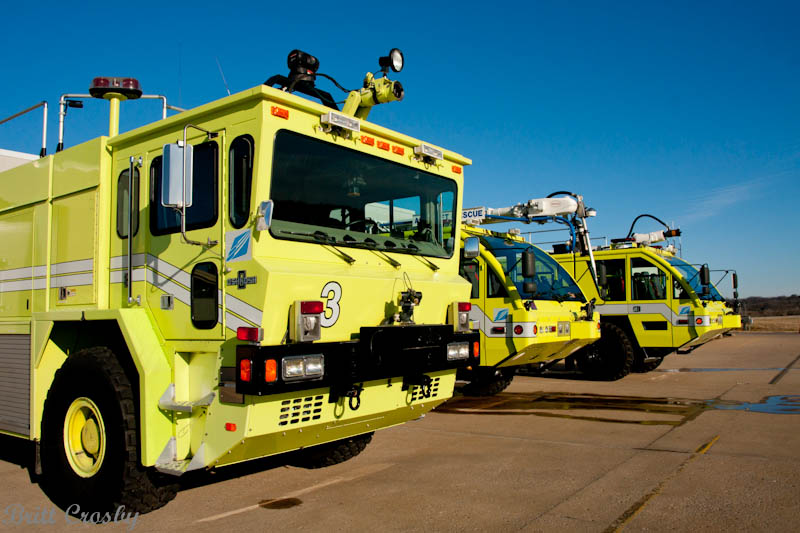 Runways are numbered based on their compass orientation.
The runway number faces the direction the aircraft is landing from.
27 would be landing from the right to left. Headed in the compass direction of 270 degrees (West).
[ 0 = North, 90 = East, 180 = South, 270 = West]
Since a compass has 360 degrees, and most runways are straight, one end of the runway
is 180 degrees (or 18) different from the other end.
(Runway 9 is 18 less than 27. Runway 18 is 18 less than Runway 36, etc...)
Runway 15/33, Runway 6/24, etc...

Runways are often built to take advantage
of prevailing winds. Planes land and take off
into the wind. When winds are calm, the
choice of runway may be based on other
factors. Runways are numbered. Taxiways
are typically lettered...
Alpha, Bravo, Charlie, etc...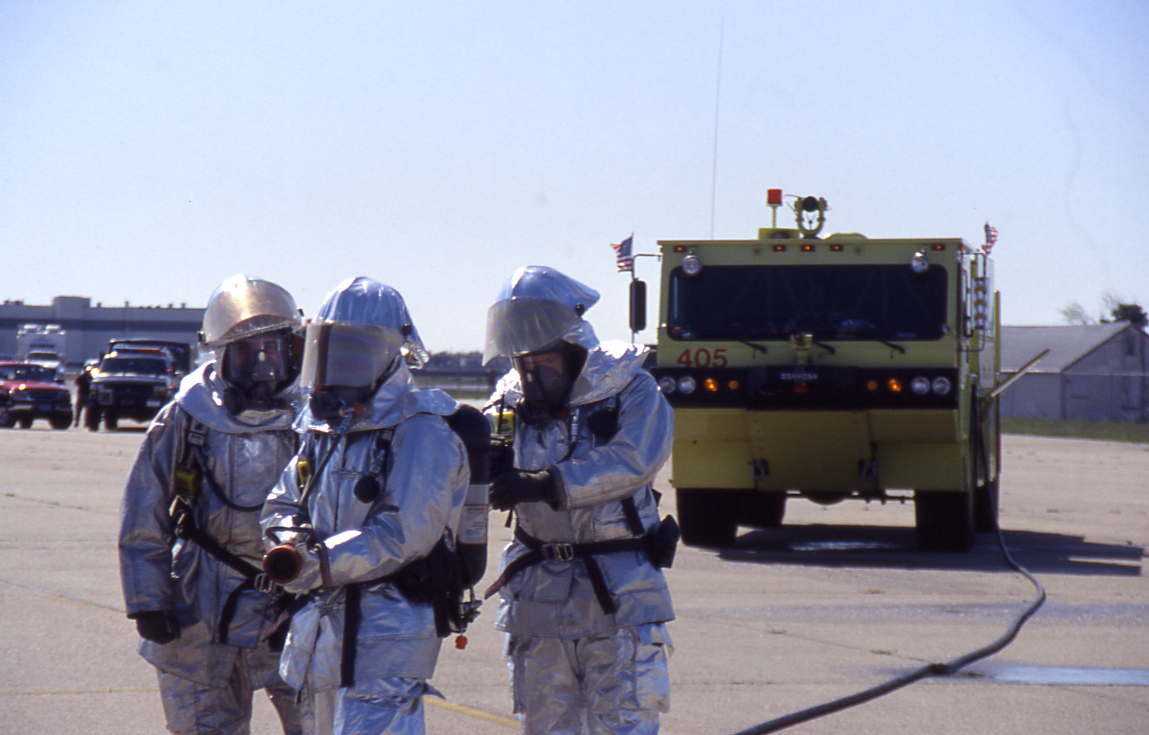 This Feature is dedicated to all those who have served as ARFF personnel.


<<<< 18 |||||||||||| HOME |||||||||||| FEATURES |||||||||||| 2 >>>>

ARFF Apparatus Feature
Copyright CapeCodFD.com
2006