◄

►

HOME

PAGE = PAGE 3 = FIRE DEPARTMENT HEADLINES

Updated: December 27, 2007

Cape Cod Live Scanner 1
Cape Wide News
Scan Cape Cod
MassFireTrucks.com
Northeast Fire News
Firehouse.com
Firefighter Close Calls
Daily Dispatch


<![if !vml]>
<![endif]>
The Latest News and Photos


TOP STORIES
APPARATUS NEWS
STATIONS NEWS
RECENT NEWS ITEMS

TOP STORIES


News and Events

Brewster and Harwich firefighters battled a blaze at the Freeman's Way
Brewster Boat Yard on Dec 18, 2007. Two buildings were fully involved
on arrival. The fire was suspicious. Photo T. Gagnon.


APPARATUS NEWS


New Apparatus, Orders, Features. and Photos



WEST BARNSTABLE AMBULANCE

West Barnstable Ambulance 293
2007 Chevy C4500 / Lifeline Type I Ambulance
EMS 330

Also seen behind the West Barnstable headquarters....
Oshkosh 5000 gallon former fuel tanker....


NEW OTIS SQUAD

Otis Squad 415
2007 Ford F450 / American LaFrance
250/250 mini pumper


NEW DENNIS ENGINE


Dennis Engine 107
2007 Pierce Dash 1500/500/30A/40B Rescue Pumper
Delivered Nov 2007


NEW MARION PLATFORM



Marion Fire Department Ladder 1
Has taken delivery of a 1991 Emergency One 95' Aerial Platform.
It is equipped with a 1500 gpm pump and 200 gallon tank.
Reportedly a former Milwaukee, WI apparatus.
Acquired from Brindlee Mountain Fire Apparatus
This replaces another E-One aerial ladder that caught fire while on the
highway and was destroyed last year.

Marion Car 1
2007 Ford Expedition SUV


MORE APPARATUS NEWS

IN 2008
Over the next few months, watch for...

NEW ENGINES COMING For
Yarmouth, Plymouth

NEW AERIALS COMING For
Orleans Tower

NEW BRUSH TRUCKS AND TANKERS For
Nantucket Tanker, Wareham Breaker, DCR Tanker, West Barnstable Tanker

NEW AMBULANCES For
Yarmouth, Dennis, Mashpee (2)

OTHER VEHICLES For
Otis Squad, Plymouth Rescue


MORE SPECIFICALLY....




Dec 3, 2007



Additional Department Specific News and Photos
can be found at....
NEWS PAGE
December 3, 2007

STATIONS NEWS


New Fire Stations, additions, changes, plans


CARVER CENTRAL FIRE STATION PLANS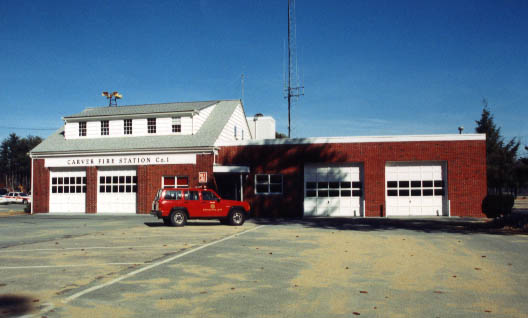 Carver Fire Station Study
Carver Fire Station Plans
Carver Fire Station


NANTUCKET PUBLIC SAFETY BUILDING PLANS
Information on Nantucket's new Public
Safety building plans
Nantucket Public Safety Building
Nantucket Plans


WELLFLEET FIRE STATION PLANS
Wellfleet votes on their new fire station
on Dec 3, 2007.
Wellfleet Fire Station Plans



NEW WEST YARMOUTH STATION

Yarmouth Station 3 November 30, 2007
Yarmouth Station 3 October 9, 2007


MASHPEE STATION 2 PLANNED



RECENT STORIES


Archived News Stories
RECENT ITEMS

New Plymouth Fire Chief Dec 1, 2007
West Barnstable Bob Crocker Nov 25, 2007
Bourne 5th Alarm Mezza Luna Restaurant Oct 20, 2007
Wareham Fire District 100th Anniversary Oct 14, 2007
Farewell to Sandwich Lt. David Boles Sept 15, 2007
Otis Second Alarm - Aug 5, 2007
Baltimore Firehouse Expo 2007 - Aug 1, 2007
Update of Fireboats Pages Aug 1, 2007
New Otis Fire Headquarters / County Communications Center July 11, 2007
Provincetown Fishing Boat Fire June 29, 2007
Charleston Nine Tribute June 24, 2007
CIEMSS Awards May 24, 2007
Falmouth Decon Training May 2007
Barnstable County Fire & Rescue Academy Training May 2007
Centerville House Fire May 14, 2007
Barnstable High School Docudrama May 2, 2007
West Falmouth House Fire - April 16, 2007
Mutual Aid To Nantucket Brush Fire - April 1, 2007 Update 4-30-07
Rochester Fire March 29, 2007
2007 Chili Challenge Mar 11, 2007
Boston 6 Alarm Fire, Endicott St, North End Feb 22, 2007
Bourne 2nd Alarm Chickadee Lane, Feb 8, 2007
Bourne House Fire Easting Road Feb 7, 2007
Barnstable Jan 1, 2007 Splash
Bourne 2nd Alarm House Fire Nov 23, 2006
Mashpee Medflight Nov 21, 2006
Mashpee House fire Main Street Nov 17, 2006
Bourne 1939 Buffalo Engine 3 Oct 8, 2006
Harwich 1928 Maxim Engine 1 Oct 6, 2006
Falmouth Boat Fire Sept 4, 2006
COMM 2nd Alarm Fatal Fire June 21, 2006
COMM Medflight July 7, 2006
Plymouth-Wareham Brush Fires May 7, 2006
Sandwich Fire Tower Visit April 2006
Dennis 2nd Alarm House fire April 2, 2006
Plymouth County Brush Breaker Drill Feature April 2, 2006
Nantucket Ladder Truck Arrives March 28, 2006
West Barnstable Medflight March 28, 2006
Eastham Ship Wreck March 27, 2006
Taunton General Alarm Fire March 19, 2006
Mashpee 2nd Alarm March 1, 2006
Bourne House fire February 26, 2006
Falmouth House of Pizza Nov 27, 2005
Osterville 3rd Alarm Nov 4, 2005
Hyannis 2nd Alarm Rte 132 Nov 4, 2005
Centerville House Fire Oct 13, 2005
Chief Peterson Memorial Oct 1, 2005
School Bus Accident Cotuit Sept 22, 2005
Ambulance Accidents & Problems Sept 2005
Kids Day - August 6, 2005
Staffing Issues - July 6, 2005
Hyannis Dalmation C.J. - June 25, 2005
West Barnstable 2nd Alarm Motel June 13, 2005
Sandwich House Fire June 9, 2005
Marstons Mills Fire April 2005
Plymouth and Barnstable Brush Fires
Hyannis Structure Fire Barnstable Road April 2005
New Mashpee Breaker 354 April 2005
Nantucket FD Apparatus changes Mar 2005
WBFD Chief Jenkins Retires Mar 2005
Orleans Ambulance Accident Mar 2005
New Mashpee Run Cards Mar 2005
Plymouth Station 5 Shutdown Feb 2005

800 MHz "RE-BANDING" MAY DISABLE SOME SCANNERS
Many of us have spent some pretty big bucks over the years to keep up with
scanner listening. Just a few years ago when the Cape went to the "800 Mhz
Trunked Radio System" it meant that our older scanners could no longer hear
some of the important radio traffic at major incidents because incidents were
assigned "OPS" (Operations) channels that, unlike each of the fire alarm channels,
is not rebroadcast (Simulcast) over the old low band frequencies so that department
issued pagers can hear dispatched calls. A variety of scanners, "Trunk Trackers"
have made it possible to follow the action and done so quite nicely.
Now comes some potentially bad news for those of us that have invested in
Trunk Trackers. Soon some of them will not be able to follow radio traffic
and the only solution may be to buy newer scanners with newer technology.
Its all quite complicated and new to me still, but basically, the 800 Mhz
frequencies shared by public safety and cellular phone / Nextel like systems
has experienced quality problems. Re-Banding is an attempt to reallign
frequencies and try to make everyone better off someday. The process of
changing will require all public safety 800 Trunked radios to be reprogrammed
at some expense and us scanner listeners will have to buy new radios to
keep up. IT'S NOT JUST THE CAPE THAT WILL BE EFFECTED,
ITS ALL 800 RADIO COMMUNICATIONS....



6-29-06
I would still use caution buying any Trunk Tracking radios.
Depending on your listening needs (ie: 800 mhz trunking for Cape fire and police)
you will want to buy radios that will still work after rebanding takes place.
Several radios now fall into this category and are worth consideration.

SOME BUYING OPTIONS

For more information, I recommend reading more on the following sites:
Uniden Info on Re-Banding
Scan Cape Cod Website - Lots of Good Info
800 Radio Info
Caldwell's Antenna for Cape info

READY TO ORDER YOUR NEW SCANNER?




Checkout Mike's EBay Site at
REDDOG'S RADIOS
Uniden Scanners including the newest Trunk Tracking
Scanners that will be Rebanding Compliant.

REMEMBER SEPTEMBER 11, 2001


LISTEN TO THE WORLD TRADE CENTER TAPES
LINK
August 13, 2005
Copyright Britton W Crosby
CapeCodFD.com 2000-2007
All Rights Reserved